Dan Abrams And The View Tackle The Grim Story Of The RI Child Killer Released On Parole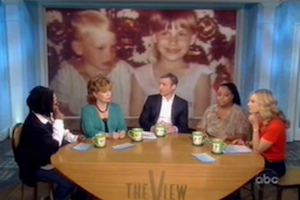 Today on Good Morning America, John Foreman warned that he might not be able to control himself if he were to ever come in contact with Michael Woodmansee. Woodmansee is the man who, 36 years ago, brutally murdered Foreman's five-year-old son Jason. He was arrested years later while trying to attack another child and, once police connected him to the earlier crime, he was charged with 40 years in prison but is now being released 12 years early. Mediaite founder and ABC legal analyst Dan Abrams joined the hosts of The View to examine the legal implications of Woodmanee's parole and the tortured father's threat.
The crime was absolutely heinous (before even discussing it, Whoopi Goldberg warned that parents should take their children away from the television). It was so terrible that the family agreed to a deal made by the prosecutors that gave Woodmansee the 40 years without going to trial. However, this deal opened up the possibility of a parole. While Abrams explained that deals like this for these kinds of crimes no longer exist, he also pointed out that prisons need to offer incentives like early release so as to keep prisoners in line.
Abrams also explained the tricky legal issues surrounding with the communities new attempt to keep Woodmansee off the streets. Many are petitioning to have Woodmansee placed in a mental institution directly upon his exit from prison. However, Abrams said this was unlikely as they're trying to use the man's journals from the time of the crime as evidence, and that would get very close to extending someone's sentence for the same crime.
As for Foreman's threat, Abrams warned that, despite the circumstances, "an assault is an assault and a murder is a murder."
Watch the segment from ABC below:
Have a tip we should know? tips@mediaite.com