Dan Abrams: 'Anything Anthony Weiner Did In Terms Of Outreach Is Now Being Investigated'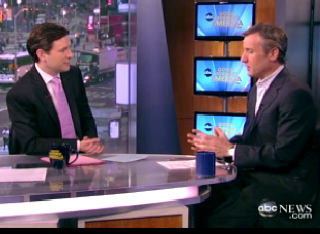 With the news that Rep. Anthony Weiner was in correspondence with a minor on the internet, his recent scandal has turned from dismaying to alarming. On Good Morning America today, ABC News Legal Analyst and Mediaite founder Dan Abrams noted the "amazing" fact that all correspondence by the Congressman is now under suspicion, and ran down the ways internet relationships with minors could lead to legal trouble.
Good Morning America anchor Dan Harris noted at the onset that the family of the minor had stood behind the Congressman's innocence, though Abrams noted that "the family doesn't get the final word here" and police still have the obligation to investigate. That said, he called the fact that the Congressman is now under suspicion for everything he has done "in terms of outreach" "amazing," where three weeks ago his interactions with fans would have been written off as benign. Abrams did add the caveat that "just because they're investigating doesn't mean theres any wrongdoing."
In order for there to be legal wrongdoing, Abrams noted, certain behaviors must be present, like " downloading child pornography, soliciting children for sex, but it could also be sending obscene material to someone who is a minor." This latter one seems to be the most possible should Rep. Weiner be found guilty of a crime. Abrams also noted that the language of his spokespeople is suspect– rather than denying any wrongdoing, they have stated that there was no wrongdoing according to their boss. "His spokespeople are distancing themselves from him," Harris noted.
The segment via ABC below:

Have a tip we should know? tips@mediaite.com