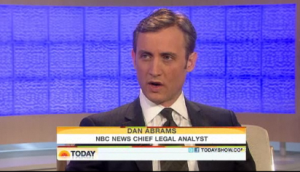 Mediaite founder and NBC Chief Legal Analyst Dan Abrams was working early this morning when he showed up on Today to examine the nuances of a murder case, one that's been unresolved since Thanksgiving of last year. The case, which has both eyewitness accounts and a confession of guilt from the alleged murderer, should've been "open-and-shut," but a number of frustrating circumstances have prevented a trial date from even being set. Abrams acknowledged that while the situation was unfortunate, especially for the victims' family, death penalty cases always require patience.
He assured NBC viewers that, while justice will be served eventually, our judicial system is designed to ensure that extra care is applied to capital offenses.
In death penalty cases, things take longer. The bottom line is you need to have the right defense attorney, who knows how to handle a death penalty case. You need to have a judge who's handled a death penalty case. That's one of the issues here.
He clarified that though the seemingly glacial pace of this particular murder case wasn't necessarily justified, it's still a product of our legal system. Abrams also touched upon the fact that this comparatively open-and-shut case would suffer further delays if the defendant's team puts up an insanity defense, as it is expected to do.
After weighing the merits that an insanity defense would hold in this case, he ventured that even if media attention were to expedite the legal process, the case would likely remian unresolved for another year.
Watch the NBC clip below for more of Abrams' analysis of the unsettling murder case.
Have a tip we should know? tips@mediaite.com