Dan Abrams: If People's Court Guest's Disappearance Isn't Connected To Show, It Would Be A 'Real Coincidence'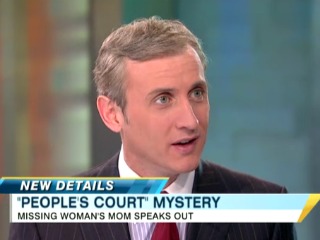 Tuesday morning, Mediaite founder and ABC legal analyst Dan Abrams stopped by the set of Good Morning America to discuss the case of Florida woman Michelle Parker, who went missing after appearing on the daytime's People's Court television show.
Abrams shared that it's significant that Parker's family has decided to stand behind her ex-fiancé — with whom she had argued on the show — both where the investigation into her disappearance and the "court of public opinion" are concerned.
RELATED: Florida Woman Michelle Parker Missing Since Her People's Court Appearance
"There's no question they're going to focus on him," said Abrams. "They need to rule him out first before they do anything else." And, of course, the fact that Parker had (unsuccessfully) attempted to obtain a restraining order against her ex is going to factor into the need to take a good look at his actions leading up to her disappearance.
And there is, of course, the whole "appearing on People's Court" thing:
And in conjunction with the fact that they had this kind of humiliating public battle on The People's Court hours before she disappears? I mean, if this was a random crime… It could've been, could've been… it would be one heck of a coincidence that she appears on national television in a contentious battle. And, again, it doesn't necessarily mean he was involved, could mean someone he knows or someone who saw it or something else. But, with that said, to think that this is possible that this is a random occurrence — absolutely possible, but something that would be a real coincidence.
Have a look, courtesy of ABC:
Have a tip we should know? tips@mediaite.com