Dan Abrams: News Corp Leaders 'Have To Be Thrilled' About Investigations Into Other Papers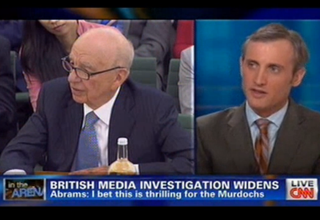 With the investigation into News Corporation heating up as Parliament began hearings this week, the threat has surfaced to other UK tabloids of investigation into their practices, as well. On tonight's In the Arena, Mediaite founder and ABC legal analyst Dan Abrams argued that a more extensive investigation "has to be good" for New Corp, as any findings would widen the scope to the tabloid culture, and not just News Corp.
Abrams noted that the Wall Street Journal had suggested a further investigation into Fleet Street in their editorial earlier this week, as "this has been happening for years" there and was not, they argued, exclusive to News Corporation. "If the investigation is expanding into other papers," Abrams told host Tom Foreman, "News Corp and Rupert Murdoch have to be thrilled." While he noted that "this is not to suggest that this is going to somehow absolve Murdoch," the odds of finding something– anything– when an investigation begins are such that it might take some of the pressure off. "Investigation others," he concludes, "has to be good for them."
The findings of any investigation, however, will be subject to legal analysis, and Abrams argued that the fate of the media involved depended on whether they were "getting information that people didn't want you to get [or participating in] illegal activity." In order to arrest anyone, however, the crimes must fit into some discrete law– Abrams suggested the Foreign Corrupt Practices Act may be used against them. While he noted that its most common use was in contracts cases (an example he gave was an instance in which a group "bribed the Thai officials on a film festival to get special access"), he also argued that "prosecutors have increasingly gotten aggressive" with its use, and it could find its way into this case.
The segment via CNN below:

Have a tip we should know? tips@mediaite.com