Dan Abrams: 'Surprising' That The Investigator Still Doesn't Know If Zimmerman Was The Aggressor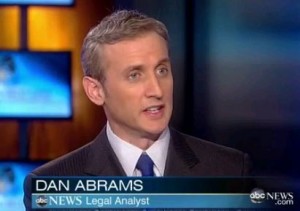 Mediaite founder and ABC legal analyst Dan Abrams appeared on ABC World News tonight to talk about the latest out of the case of George Zimmerman, the Florida man who fatally shot teenager Trayvon Martin. When asked by Diane Sawyer what surprised him most about today's bond hearing, Abrams admitted he was surprised that Zimmerman spoke at all, and that the lead prosecutor has not seen enough evidence to say one way or the other whether Zimmerman started the fight.
RELATED: George Zimmerman Speaks: Apologizes To Martin's Parents, Is Cross-Examined By Prosecution
Abrams suspected that Zimmerman must have "insisted to his lawyer" that he speak at the hearing. Zimmerman faced a tough cross-examination while he was on the stand. Abrams said his lawyer may have decided that since he was going to answer tough questions during a hearing anyway, he may as well get that ball rolling now.
Sawyer and Abrams noted how odd it was that the lead prosecutor in the case admitted they had no idea who started the fight between Zimmerman and Martin and didn't have enough evidence to make such a call. Abrams found that last point particularly striking, because so much has come out in the last few weeks.
"I'm surprised that the lead investigator can't say, based on everything we've seen, based on all the witnesses we've talked to, based on all the audiotapes that we've evaluated, we've come to the conclusion that Zimmerman was the aggressor. For him to have no evidence? Surprising."
But Abrams thinks the prosecution still has a solid case to make, though the photo released earlier today of Zimmerman's head injuries will be a great boon to the defense. Abrams noted that legally speaking, if Zimmerman was the aggressor, but then he started losing the fight to Martin, he can't use "deadly force" as a reasonable excuse.
Watch the video below, courtesy of ABC:
Have a tip we should know? [email protected]
Josh Feldman - Senior Editor