Dan Abrams: Nancy Grace Fans Are Going To Give Casey Anthony A Hard Time Wherever She Goes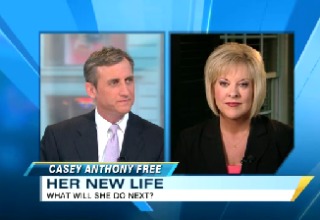 ABC legal analyst and Mediaite founder Dan Abrams teamed back up with HLN's Nancy Grace to discuss Casey Anthony's release from prison.
Abrams, for one, thinks speculation that Anthony will be able to profit off her notoriety with a reality show and book deals and the like is discounting "how much anger there is against Casey Anthony." If she's going to make money off her case, he guesses, it won't be with a major organization or company but, rather, with one on the fringe.
A rather subdued, almost melancholic Grace then offered her reaction to Anthony's new freedom:
Well, mostly, disappointment. Disappointment in our justice system and I think that that is the general sentiment. No one wishes for vigilante justice; nobody advocates that. People who are opposed to the jury verdict, that think it was wrong, are really seeking justice, and I do not believe those people are interested in harming Tot Mom Casey Anthony.

And as far as her getting deals? They're already coming in. In an interview with José Baez, he's already fielding offers, one for up to one million dollars. So, they are going to come in and it's just, like, porn. Nobody says in church on Sunday morning they're going to watch it, but they do. So somebody's gonna watch that interview and somebody's gonna buy that book and somebody's gonna make a lot of money. End of story.
Abrams then compared the Anthony case to another high-profile, televised case with a verdict many in the public found generally dissatisfying, if not outright wrong: O.J. Simpson's. The difference between the two, noted Abrams, is that Simpson went into and through the case having numerous fans from his days as a professional athlete, whereas as Anthony has never been a beloved celebrity.
Now that she is a famous person, there's little doubt that the public and the media will be clamoring to see her when and if she honors her subpoena to appear in court to face a lawsuit waged against her by the nanny she accused of taking her daughter.
Abrams then brought up an interesting point:
There are too many people out there who love Nancy Grace, who watch Nancy Grace on a regular basis, who are going to see her out there somewhere and are going to give her a very, very hard time wherever she goes.
Watch the segment, courtesy of ABC News:
Have a tip we should know? tips@mediaite.com