Dan Abrams On Conrad Murray Trial: 'This Is About Michael Jackson's Gruesome Death'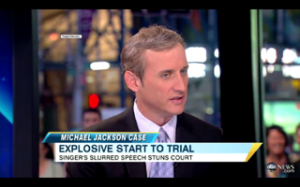 Conrad Murray's trial kicked off to a grim start yesterday with a photo of Michael Jackson's lifeless body stretched out on a hospital gurney, an eerie voicemail left by Jackson on Murray's phone, and tears all around. "Prosecutors want to make the jurors realize that this is about Michael Jackson's gruesome death," expounded Mediaite founder and ABC legal analyst Dan Abrams, who stopped by Good Morning America early this morning to give a rundown of day one.
Abrams points out that the first witness called, Jackson's close friend and choreographer Kenny Ortega, wasn't pressed to talk about the actual death. "When you are talking about something like gross negligence or recklessness, the standard is so undefined," Abrams explained. "Hearing from someone like Ortega talk about the fact that he had gone to Doctor Murray and warned him about the situation — Doctor Murray kind of blows him off — I do think that's important in a case like this."
The prosecution played a tape for the jurors of the fallen pop star, mumbling painfully about fame on Murray's voicemail: "When people leave my show, I want them to say, 'I've never seen nothing like this in my life.'" "When you're a doctor, and you have a guy who have a guy who's talking like that, and you continue to administer Propofol," Abrams said, "That's exactly what the prosecution's case is about. They're saying that is the definition of gross negligence."
The defense took what Abrams believes to be an "aggressive position," choosing to argue that "he didn't die from the Propofol, he died when Dr. Murray stopped giving him Propofol." In court, defense lawyer Ed Chernoff suggested that Jackson was responsible for his own death, administering the deadly dose against Murray's orders. He had "created a perfect storm in his body that killed him instantly," Chernoff argued.
The trial continues today with Jackson's security guard, the man who first found Jackson, taking the stand.
Watch Abrams' full take below, courtesy of Good Morning America:
Have a tip we should know? tips@mediaite.com