Dan Abrams On Lindsay Lohan's Legal Woes: 'She's Not Getting Special Treatment'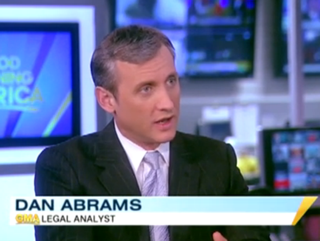 Troubled starlet Lindsay Lohan has been tormenting judges for years now, with violation after violation and probation after probation. On her latest affront to justice, she has been sentenced to community service at a morgue, though her alleged theft has been reduced to misdemeanor. On Good Morning America this morning, legal analyst and Mediaite founder Dan Abrams explained why, despite getting her sentence reduced, Lohan is getting her fair share of punishment.
"It was a big win to get it reduced from a felony to a misdemeanor," Abrams explained, noting that the lawyers had at least managed to reduce the maximum sentence from three years to just one. That said, the judge in the case was going out of her way to express dismay at Lohan. "The judge is clearly saying 'I'm irritated,'" Abrams noted, and making a note of the "immediate issue" of Lohan's probation, rather than the alleged theft. For that violation, the judge not only sentenced her to community service, but found perhaps the most unpleasant community service in the book: "time at the county morgue."
Thus the victory on the charges does not necessarily mean she's getting "special treatment." "I hate to say it," Abrams added, "but she's not." As for Lohan's psychological state, Abrams only went as far as to note that "every time she gets in trouble, she claims to have learned her lesson," and every time we can only hope she's telling the truth.
The segment via ABC below:

Have a tip we should know? tips@mediaite.com