Dan Abrams On Today: Joran Van Der Sloot's Time In Prison And Media Exposure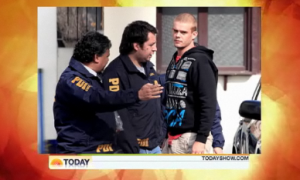 It seems, right now, that the most hated man in the world (perhaps even more than Tony Hayward) is Joran van der Sloot, the prime suspect in the disappearance of Natalee Holloway five years ago who has now been arrested in the murder of Stephany Flores. He is so hated that his attorney has now quit after receiving death threats and the authorities are happily sending out footage and stories of his time in a Peruvian prison to the public. Mediaite founder and NBC's chief legal analyst Dan Abrams appeared on the Today Show this morning to discuss both of these developments with Matt Lauer.
Abrams discussed van der Sloot's departing lawyer:
"Unlike here, where I think people would be lining up to represent a high-profile client no matter how horrible the crime is the person is accused of, in Peru, with all these death threats etcetera, it's not a case he wants. He made a comment and he said, "Look, I'm an old man now. I don't need this." It's very different, I think, than it would be if it were here."
Abrams and Lauer also discussed the footage that the Peruvian authorities released which is detailed in the first half of the Today segment. In it, we see what life is like for van der Sloot in prison where the food is good but the showers are cold, he has no books or comforts, and he must be kept separate from the majority of the other prisoners at all time for his own safety. His only company is from a convicted hitman in the cell next door who he has developed a seeming friendship with. The hitman has even given him a charming nickname: "psychopath." It's no wonder that van der Sloot is trying to make a deal where he will be kept in an Aruban prison instead.
Check out the footage as well as Abrams analysis of it below.
Have a tip we should know? tips@mediaite.com