Dan Abrams On Today: Peruvian Authorities Will Not Hand Van Der Sloot Over To Aruba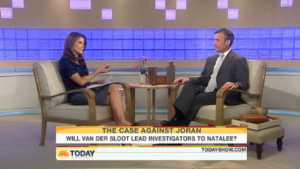 As the investigation into the murder of 21 year-old Stephany Flores' develops, many are wondering how the arrest and confession of Joran van der Sloot will affect the five year old case of Natalee Holloway. Holloway, of course, was the American student who went missing in Aruba while van der Sloot was the main suspect. Van der Sloot is now claiming (as he had before but never actually done) that he will lead Aruban investigators to Holloway's body if the Peruvian authorities let him. This morning, Mediaite founder and NBC's chief legal analyst Dan Abrams appeared on the Today Show to explain why the Peruvians will never agree to that.
At the top of the segment, Abrams and Natalie Morales discussed how open and shut the Flores case seemed to be. Abrams pointed out, as he did during his last appearance on the subject, that the video evidence showing van der Sloot and Flores entering the hotel room together and later showing him leaving alone shortly before her body was discovered inside is the most important evidence that the prosecution has. This evidence, Abrams says, is more damning than DNA or the confession and, because of it, van der Sloot's attorneys will probably be looking to reduce his inevitable sentence more than win the coming trial.
Morales then brought up the possibility that the Peruvian police would let van der Sloot, as he's requested, travel to Aruba to locate Holloway's body. Abrams stated that that's just not going to happen.
"They have one of their citizens who's been murdered. They are not going to just let him go to Aruba to possibly help solve some other crime in Aruba. They're going to try him first in Peru."
Morales pointed out that the Arubans, thus far, haven't even been able to contact the Peruvians. Abrams said that he was sure to change shortly.
"I would think that in a case this high profile, where the world is watching, they'll start returning some phone calls. The Peruvians are going to start returning the Arubans phone calls but it's going to almost be a diplomatic effort. It's going to be basically to say, 'We hear you. We're going to try and get information for you. We'll pass along anything that we get.' But the one thing they're not going to pass along, is Joran van der Sloot."
If van der Sloot's plea to go to Aruba is just, as Abrams believes, a clever attempt to stay out of a Peruvian prison as long as possible, it looks like he's going to need a new strategy.
Have a tip we should know? [email protected]