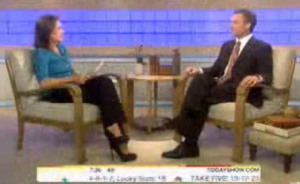 Early this morning news broke that Joran van der Sloot had confessed to the murder of Stephany Flores, a 21 year old, in Peru. Van der Sloot, of course, was the prime suspect in the unsolved murder of Natalee Holloway who, in a weird twist, disappeared exactly five years before van der Sloot's confession last night. Mediaite founder and NBC's chief legal analyst Dan Abrams appeared on the Today Show this morning to discuss the confession and the case. He told Meredith Vieira that, despite whatever evidence the Peruvian prosecutors could come up with, some video evidence from the night may be the most damning against the suspect and may have even caused his confession.
The video evidence in question is a series of surveillance tapes showing van der Sloot escorting Flores into his hotel room and then leaving by himself a few hours later. Shortly after that, police found the girl's body in the room.
"Abrams: In this case, they have evidence that may be even better than DNA evidence and that is that video tape that we just saw. First, leaving the casino, then walking into the hotel room with her, then he leaves alone, and her dead body is found in that hotel room. I mean, that's very strong evidence in and of itself. This is not, in the Natalee Holloway case, of course, you have a body that's never been found. She's just classified as 'disappeared' at this point.
Vieira: And if anybody else had walked into the room, that would also be on the surveillance tapes?
Abrams: Absolutely."
Vieira later asked Abrams about whether or not this will reopen the Holloway case. Abrams reiterated his beliefs from last week, that that would be unlikely. However, he was sure that the Holloway suspicions would inspire the investigators in Peru to do everything possible to make sure van der Sloot, if guilty, wouldn't get away again.
Have a tip we should know? tips@mediaite.com