Dan Abrams On Trayvon Martin Shooting: 'Let's Separate The Facts From The Law'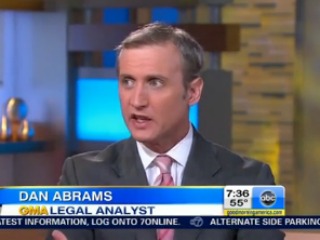 ABC legal analyst and Mediaite founder Dan Abrams appeared on Good Morning America early Monday to weigh in on the legal aspects of the shooting death of Trayvon Martin.
RELATED: The Killing Of Trayvon Martin Is Not A 'Black Problem'
The teen had been walking back from a 7-11 — a bag of Skittles and bottle of ice-tea in hand — when he was approached by 28-year-old neighborhood watch captain George Zimmerman. Zimmerman had called police earlier, telling them the teen "looked real suspicious," and had been advised by the dispatcher not to pursue the boy.
What happened next, according Charles Blow's account in the New York Times, resulted in police finding Trayvon "face down in the grass with a fatal bullet wound to the chest."
"Alright, let's separate the facts from the law," Abrams advised. Zimmerman had been told to remain in his car, and he did not. He had made the comment that "they always get away" — a statement that isn't exactly helpful to his case. And, finally, Trayvon had been unarmed.
"The difficulty here," Abrams noted, "is the Florida law. They have a law called the 'Stand Your Ground' law. In most states, you're required to retreat. If someone comes after you, you don't have the right to shoot someone on the street if you feel you're in danger. In Florida, you do have that right. That's what the prosecutors are relying on thusfar. "
The question here, he added, is, ultimately, who the aggressor was when the two entered into a scuffle.
"I think it's very clear," he said, "this is a very active, open investigation."
Have a look, via ABC:
Have a tip we should know? tips@mediaite.com