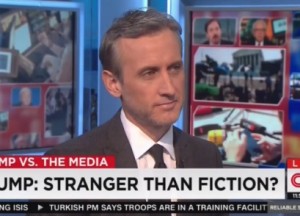 Mediaite founder Dan Abrams told CNN's Brian Stelter that the media should stop treating Republican presidential candidate Donald Trump as a "clown" and start treating him as what he is — the GOP front-runner.
"We have to start, in the media, treating Donald Trump as the Republican front-runner. A lot of the media don't want to do that," said Abrams. "A lot of them still want to treat him like a clown, like a reality show guy."
"The bottom line is he is the Republican front-runner. As of today, he is the likely candidate to be running against who we expect will be Hillary Clinton in the general election."
However, Abrams' comments weren't praise for Trump as a presidential candidate. Rather, he insisted the media take Trump more seriously because its lax, clicks-driven coverage of the New York real estate mogul's campaign doesn't stick to the results of its countless fact-checking investigations of his many, many false claims.
"The one thing the media needs to do better is not just fact check, but then once the check has been done, to not say 'well on the one side and on the other side, and on the one hand and on the other hand,'" Abrams argued. "Once it's clear there's no evidence to support it, the media has to say that."
Stelter notes that "there's clearly a beneficial" and "antagonistic relationship" between Trump and the media's coverage of his campaign, especially when networks and shows benefit from the candidate's many appearances. Abrams agrees, but notes that this doesn't mean the media can't hold Trump accountable.
Check out the clip above, via CNN.
[Image via screengrab]
— —
>> Follow Andrew Husband (@AndrewHusband) on Twitter
Have a tip we should know? [email protected]