Dan Abrams On GMA: This Reality TV Defense Is 'One Of The Craziest' I've Ever Seen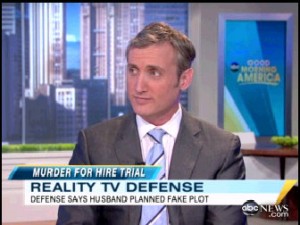 Well, now, this is an interesting little story. ABC News legal analyst and Mediaite founder Dan Abrams appeared on Good Morning America this morning to discuss a truly bizarre would-be murder case apparently literally inspired by reality TV shows like Cheaters.
A Florida woman named Dalia Dippolito allegedly hired a hit man – who turned out to be an undercover officer – to kill her husband of six months, Mike Dippolito. Par for the course for many Florida couples, but! There's a twist! Dippolito is saying the hit was part of a ploy to land a scripted reality TV series and that the contract out on her husband, who was in on the idea, was never intended to be real. The only problem is that Mr. Dippolito is saying he had no idea his wife had put a hit out on him.
Abrams weighed in:
I've seen a lot of wild and crazy defenses in my day, and this is certainly one of the wildest and one of the craziest. But the difference here than sort of "the Twinkie defense," so to speak, and other defenses like that, is that if the defense is actually able to get jurors to believe that she didn't think it was real, then she's not guilty.

…That would then show that she did not have the intent to commit the crime. But, with that said, that's not going to be a very easy road.
Potentially damaging to Mrs. Dippolito's defense, however, is the planning that went in to the alleged crime, as well as texts she sent to an apparent boyfriend. Her lawyers, however, are attempting to paint her husband as a man consumed with garnering fame and attention – the sort of fame and attention one might achieve by being a reality TV star.
Check out the segment:
Have a tip we should know? tips@mediaite.com