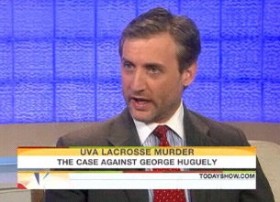 NBC Chief Legal Analyst, and Mediaite founder, Dan Abrams sat down with Matt Lauer on Today this morning to talk about the death of a University of Virginia lacrosse player.
Men's lacrosse player George Huguely has been charged with the first degree murder of fellow student and women's team member Yeardley Love.
According to the Chicago Tribune, one of Love's roommates found the 22-year-old lying face down on her bed with a "pool of blood on her pillow, [and] a large bruise on the right side of her face."
At some point, Huguely and Love were romantically involved. Huguely admitted to police that he had an altercation with Love on the night of her death, during which he shook her repeatedly as her head hit the wall.
According to Abrams, this initial statement may end up hurting his defense:


Huguely's lawyer maintains that the death was accidental, saying, "[We] are confident that Ms. Love's death was not intended, but, an accident with a tragic outcome."
Meanwhile, the men's and women's lacrosse teams prepare for the NCAA tournament. Both teams are expected to go far; the men's team is ranked number one in the country. However, ESPN reports that both teams have discussed canceling the remainder of the season. According to Today, however, Ms. Love's parents have asked the team to play on.
Lacrosse is not a high-profile sport, but this is the second time in recent memory that it has garnered national attention for something that has happened off the field. In 2006, three members of Duke's lacrosse team were accused of rape. Those charges were later dropped.
Have a tip we should know? tips@mediaite.com