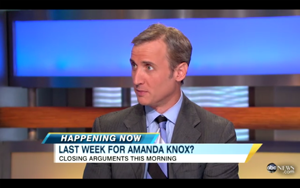 Mediaite founder and ABC legal analyst Dan Abrams appeared on Good Morning America this morning — in what seems to be his daily segment — to makes sense of Amanda Knox's most recent turn in the Italian courts, this time facing an appeals court in hopes of getting her guilty conviction dropped and returning home to Seattle. "Well, look, she's got a decent shot here of going free, but there are a lot of other possibilities," Abrams said, cautioning that Knox is not home-free just yet.
Abrams concern is by the multitude of possible outcomes, and by the evidence the prosecution has left over. He reminded that Knox's case has always been a difficult one to read, and that the Italian appeals system allows for a number of different endings. As he lays it out:
First of all, you've got the prosecuters asking for a stiffer sentence than the one she already got. They're asking now for life in prison, they're saying now that there is other evidence, in addition to the DNA. Remember, the supreme court, the highest court of Italy could still hear this case. Prosecuters could appeal, they could say we want her to stay in the country while we're pending an appeal here. The appeals court they're in front of now could reduce the sentence instead of saying simply we're going to aqcuit her.
So perhaps, yes, she could be let home, but, "there are all sorts of options here beyond just simply saying she could be set free."
Watch the full segment, courtesy of ABC:
Have a tip we should know? tips@mediaite.com