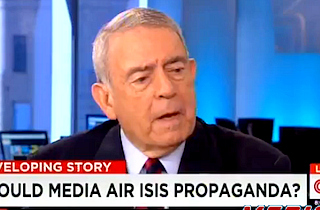 During a discussion on CNN's Reliable Sources Sunday morning about whether news outlets should air ISIS' beheading videos, or even show still clips from them, journalist Dan Rather told host Brian Stelter that ISIS was engaged in the first "social media war," and were as adept at this medium as Hitler was at using mass media for propagandistic purposes.
"In the way the Vietnam War was the first television war, this is the first social media war," Rather said. "ISIS has proved to be very adept, very talented — you always hope that evil won't be — in ratcheting up their hysteria, ratcheting up the image of their influence, far beyond what their actual military capabilities are."
RELATED: Fox Host to McDonough: Did Admin 'Threaten' Sotloff, Foley Families Not to Deal with ISIS?
"We have to understand that a lot of this is psychology of propaganda," Rather said. "Three beheadings are enough to move American public opinion, change our foreign policy, and take this country to war."
Political analyst Jeff Greenfield agreed. "It tends to force our policy makers to make decisions they might not make absent the emotional punch of those pictures," he said.
"The shock of the beheadings will begin to fade a little bit as time goes along," Rather added. "ISIS, as smart as they are, are in the same league in the social media war context as Hitler was in the 1930 in their use of propaganda. They'll go to something else, something else for shock value. We need to be thinking about that."
Watch the clip below, via CNN:
[Image via screengrab]
——
>> Follow Evan McMurry (@evanmcmurry) on Twitter
Have a tip we should know? tips@mediaite.com