Dan Rather Defends Fox News from Allegations of Being GOP 'Propaganda Machine'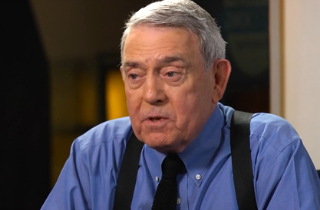 Well, this may come as a surprise to some: A veteran news anchor has come to the defense of Fox News against allegations that the network acts as a "propaganda machine" for the Republican Party. That newsman is Dan Rather.
In a recent interview with Larry King, Rather pushed back on such allegations as they've repeated by critics in light of Gabriel Sherman's new book about Fox CEO Roger Ailes, The Loudest Voice in the Room.
-RELATED: Who's That Guy? Many Americans Don't Know This Top News Anchor
"Do you ever think the thought that Fox News Channel is an actual part of the Republican party?" King asked his guest.
Rather said he understands such accusations, but believes they "go too far." He added that he believes Ailes likely sees himself as still a part of the Republican Party, but that doesn't mean the entire network is part of it, including some of "the pros there that are pretty good."
"I'll say this about [Ailes]: He is a very good businessman, he's very smart about television, and he built a network when I, for one, wasn't at all sure he could do so," Rather continued. "And has he used it to benefit the Republican Party? Yes. The record is very clear on that. But is it a sole operative and propaganda machine for the party? I'd have to stop short of that."
Watch below, via Hulu:
[h/t Eddie Scarry]
— —
>> Follow Andrew Kirell (@AndrewKirell) on Twitter
Have a tip we should know? tips@mediaite.com