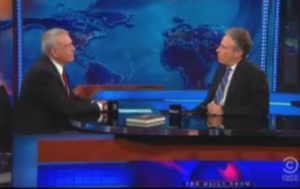 Dan Rather paid a visit to Jon Stewart on Wednesday night, where the two chatted about politics and media bias. Rather dismissed claims of any liberal media bias at ABC, CBS and NBC — arguing that it's just "camouflage" meaning not everyone agreed all of the time.
Politicians have become smarter about the way they use television, Rather said. They've "outsmarted" it. The saturation of news on TV has its pros and cons, he said, citing an example:
But each successive presidency, for example, has gotten smarter and smarter about how to manipulate the media, manipulate the press and use television to its advantage. There is also the trivialization of the news … the politicization of news now results in some networks just being partisan political propaganda.
Stewart then asked directly about Rather's experience with media bias during his time in newsrooms. Acknowledging that perception, he denied such a bias actually exists. Said Rather:
It hasn't been my experience. Most journalists I grew up with, most journalists I worked with and practiced with were trying to be honest brokers of information. […] Journalists, the best of them, do see a Dickensian side of society that most people don't see. So when they try to call attention to that, people who don't like it say, 'Oh, you're a liberal.'
The three networks aren't "chocked full of liberals," he said, addressing conservatives who've left those newsrooms claiming leftward slant. "I'm not saying that nobody in the newsroom was liberal any more than I would say nobody was conservative," he said.
It's really about those people not always agreeing with their colleagues, Rather suggested, adding:
Frequently what has happened is people who described as conservatives want to say, 'I work at CBS News, and almost everybody there was liberal.' What they really mean is not everybody there agreed with him all the time. This is a sham. It's a camouflage.
Have a look, via Comedy Central:

Have a tip we should know? tips@mediaite.com