Dan Rather Doubles Down On Texas Air National Guard Story: Bush Was A Deserter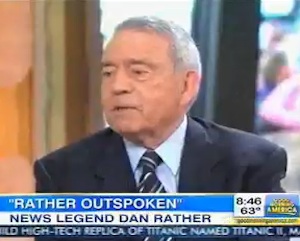 On Monday's edition of Good Morning America, former CBS Evening News anchor Dan Rather spoke with George Stephanopoulos about his new book Rather Outspoken: My Life in the News, focusing for a moment on the controversial 60 Minutes report about George W. Bush and his Texas Air National Guard service that led to Rather's exit at the network.
Rather said he had no regrets over the story. "We reported a true story," he said. "I am not at CBS now because I and my team reported a true story. It was a tough story, a story a lot of people didn't want to believe and it was subjected to a terrific propaganda barrage to discredit it."
Stephanopoulos asked Rather whether there was any way to know the entire truth without all of the documents.
"No, what story does anyone know the truth, the whole truth and nothing but the truth?" Rather replied. "But we reported the truth and that is that President Bush–later President Bush–when he was in National Guard service, he was at least AWOL and we had a top general in the Army saying on the record he was a deserter. Now everybody makes mistakes. I made some, President Bush obviously made some. But because we reported that story, they put heavy pressure on the corporate entity and the corporate entity voted."
"The Bush team would point out that he was honorably discharged," Stephanopoulos observed. "Which at least raises questions about if he was a deserter. They, of course, deny that."
Watch Rather double down below via ABC:
Have a tip we should know? tips@mediaite.com