Dan Rather in 1982 CBS Report: TV Crew Members 'Knocked to the Ground' in Riots Where O'Reilly Was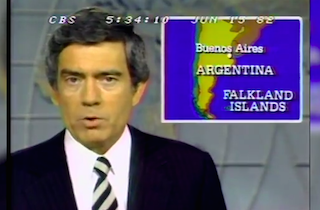 As Bill O'Reilly continues to face accusations, now from multiple former CBS News colleagues, that he has exaggerated the situation in Buenos Aires at the end of the Falkland Islands war, Mother Jones, which first reported on the "inconsistencies," has posted the full 1982 CBS report on the end of the war on its YouTube account.
In the video, anchor Dan Rather describes and shows footage of demonstrations in that Argentina city that followed the British victory.
"As word of the Argentine defeat leaked out in Buenos Aires, thousands of demonstrators began to gather outside the presidential palace," Rather reported on June 15, 1982. He said the president planned to make a speech, but instead was drowned out by as many as 5,000 protesters who chanted, "Traitor, traitor."
"Police moved in with clubs and tear gas, they dispersed the crowd," he continued. "Some television crew members were knocked to the ground."
While it remains debatable whether the scene described by Rather constituted a "combat situation," as O'Reilly has said, the anchor's comments could corroborate at least one element of the Fox host's story.
In a 2013 broadcast, O'Reilly said, "I was in a situation one time, in a war zone in Argentina, in the Falklands, where my photographer got run down and then hit his head and was bleeding from the ear on the concrete. And the army was chasing us. I had to make a decision. And I dragged him off, you know, but at the same time, I'm looking around and trying to do my job, but I figure I had to get this guy out of there because that was more important."
In rebuttal, O'Relly's ex-CBS News colleague Eric Engberg wrote on Facebook this weekend:
"Neither [CBS bureau chief in Buenos Aires Larry] Doyle, who would have been immediately informed of injury to any CBS personnel, nor anyone else who was working the story remembers a cameraman being injured that night. No one who reported back to our hotel newsroom after the disturbance was injured; if a cameraman had been 'bleeding from the ear' he would have immediately reported that to his superiors at the hotel."
Engberg called on O'Reilly to name the photographer in question to he could share his memory of the events.
That photographer, later identified as Roberto Moreno, has declined to comment thus far about his role in the story, but Rather's reporting, while unspecific, does appear to back up at least the feasibility of O'Reilly's recollection.
O'Reilly has said he will play footage from this CBS News report on his show tonight. We can expect that he will use Rather's words to corroborate his story.
Watch video below, via CBS:
[h/t Hunter Schwarz]
[Photo via screengrab]
— —
>> Follow Matt Wilstein (@TheMattWilstein) on Twitter
Have a tip we should know? tips@mediaite.com