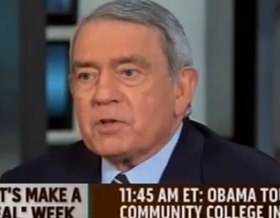 Former CBS Evening News anchor Dan Rather says President Obama's caught in a "political nightmare" over the likely extension of the Bush tax cuts for another two years.
Rather, speaking on MSNBC's Jansing & Company said an extension of those cuts will infuriate the left and lead to a Democratic primary challenge against the president in 2012:
This is a political nightmare for Barack Obama as president. The more-left portion of his party hates this with a passion. And politically, within his own party, if this goes through, Barack Obama will be in a position to have his shirttail on fire, his back to the wall, and the bill collector at the door. Which is metaphorically a way of saying he's almost guaranteed — if this goes through — to have a serious challenge in a Democratic primary for president in 2012.
Say what you will about Rather. You've gotta love those "Things are getting hotter than a Times Square Rolex" Ratherisms. But the "back against the wall, shirttails on fire" is a retread Rather first used with Al Gore during the 2000 Florida recount. (For a complete list of Ratherisms, including ever-popular "this race is shakier than cafeteria Jell-O," go here.)
Rather says time is running out for Obama to restore his image among his own Democratic Party base, who are increasingly fed up:
The perception of [Obama] is that he won't fight for anything… Many of the heavy contributors to the Democratic Party are beyond shock about this happening, and are saying to themselves, 'This guy . . . has about four to six months to turn the perception of him and the party around or we've got to start thinking about somebody else in 2012.'
Watch the segment here, from MSNBC:
Have a tip we should know? tips@mediaite.com