Dan Rather Tells Morning Joe: 'Something In My Gut Tells Me Romney Will Have A Good Day'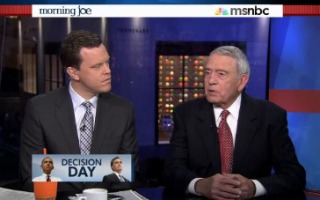 Former CBS Evening News anchor Dan Rather visited Morning Joe on election day, where he imparted his own two cents about what we can expect today — as well as what the media should avoid.
After Rather shared his excitement about the democratic process, host Joe Scarborough looked back to the 200 and 2004 elections, commending Rather for showing how George W. Bush could still beat Gore even though it seemed as if the latter would win. The two men agreed that observers in the media would do well to sit back and allow things to unfold rather than claiming an early victory for either side.
"The coverage this morning already," said Rather, "has been pretty much in the direction, 'listen, it's Obama's to lose here. He's probably going to win it. All the polls show one thing going one direction.' But it's election. Time for spin and chatter analysis is over. Now the people speak."
But that doesn't mean he doesn't have an inkling himself:
You can lay out a plan that Romney win this election — and I'll be honest with you, as I always try to be — something in my gut tells me that it's going to be a good day for Romney. But as a reporter, you don't report your gut. The polls all indicate, yes, Obama, he has several paths to victory, Romney has only one. But don't taunt the alligator until after you cross the creek."
Have a look, courtesy of MSNBC:
Visit NBCNews.com for breaking news, world news, and news about the economy
Have a tip we should know? tips@mediaite.com