Dan Savage At Anti-Bullying Event: 'We Can Learn To Ignore The Bullsh*t In The Bible About Gay People'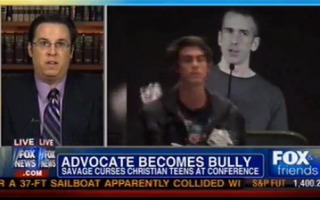 On Monday, Fox & Friends host Steve Doocy interviewed Rick Tuttle, a California high school teacher who had some students walk out of an anti-bullying speech given by columnist and gay rights activist Dan Savage earlier this month.
Here's what Savage had said:
People often point out that they can't help it, they can't help with the anti-gay bullying, because it says right there in Leviticus, it says right there in Timothy, it says right there in Romans that being gay is wrong. We can learn to ignore the bullshit in the Bible about gay people.
Savage, for those unfamiliar, is a columnist and writer who spearheaded the "It Gets Better" project, a campaign offering support and encouragement to young gay individuals facing rejection and discrimination.
RELATED: Dan Savage Responds To The Continuing Success Of 'Middle-Aged Bigot' Rick Santorum
Tuttle explained that he had taken a group of students to a conference to hear Savage speak, but that some were offended by the remark Savage had made about the Bible during his anti-bullying speech. "I mean, as an educator, I take bullying very seriously," Tuttle explained. "My duty is to protect all students from bullying, and so I thought there was value in going to this conference to hear a speech about what I thought was anti-bullying. But what we got was a vulgar, profanity-laced attack on Christians. And some of my students actually asked me if they could leave and I said definitely, they could."
"So he was supposed to have an anti-bullying message," said Doocy, "but it seemed like he was bullying some of the Christians. Didn't it?"
"He had the bully pulpit, if you would say so, so to speak," Tuttle replied. "And, basically, this is their way to say, you know what? I'm going to take a stand. And, frankly, it took a lot of guts and these students that you see there that are walking out, I mean, it occurs to me as I see this video, is this is what we teach kids to do when they're being bullied to walk away. That's what they did."
And, according to Tuttle, the insults continued even after the students left the convention center.
"And they say when they got outside of the convention center," he continued, "he was still lobbing insults at them. Basically saying that they were, uh…. pansies, I think is the word he used or something a little coarser actually related to that. So basically insulting them even after they left."
Here's what Savage had said:
You can tell the Bible guys in the hall they can come back now because I'm done beating up the Bible. It's funny to someone who is on the receiving end of beatings that are justified by the Bible how pansy-ass people react when you push back.
Watch, via Fox News:
Have a tip we should know? tips@mediaite.com