Dan Savage Defends Russian Vodka Boycott to Chris Hayes: We're Trying to 'Prevent a Catastrophe'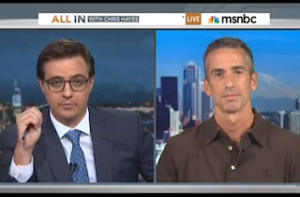 Columnist Dan Savage appeared on All In with Chris Hayes Wednesday night to explain why he has been promoting a boycott of Russian vodka to protest that country's new anti-gay laws. Hayes questioned the role that Russian vodka brands have in creating "Putin-promulgated laws that are targeting, heinously and unquestionably targeting–LGBT folks in Russia."
Savage said the goal of the boycott is to raise awareness about the laws by targeting "Russia's most iconic product." He objected to the fact that Hayes repeated the "lie" being pushed by the Stolichnaya that it is actually made in Latvia.
Hayes conceded that Stoli is a "legitimate target of the boycott," but said to him it looked like Savage was only using Russian vodka as a target "because it was a possible one to get, as opposed to the one that is responsible for what it going on there."
Savage defended the boycott as being a "huge success" so far, pointing out that several Russian LGBT activists have publicly supported it. Turning to the possibility of the U.S. boycotting the Olympics in Russia this coming winter, Savage would not commit one way or another. But he did invoke the comparison to Hitler's Olympics in 1936.
"What's happening right now in Russia to LGBT people isn't what happened to Jews in Germany in 1943–it's what happened to Jews in Germany in 1933," Savage said. "People didn't speak up at the volume they should have, and we're speaking up now to try to prevent that catastrophe from unfolding."
Watch video below, via MSNBC:
[photo via screengrab]
—
>> Follow Matt Wilstein (@TheMattWilstein) on Twitter
Have a tip we should know? tips@mediaite.com