Dan Savage Makes Maher's Conservative Guests Squirm With Talk About Inseminating His Husband For God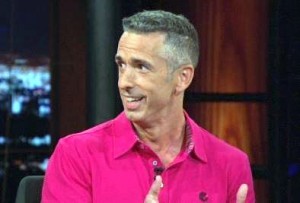 During tonight's Real Time, Dan Savage told Bill Maher about his reactions to this year's monumental Supreme Court rulings on gay marriage, the most laugh-out-loud awful anti-gay arguments, and one of his favorite ways to troll Christian conservatives. He also explained to Maher how gay male couples are most likely to be promiscuous, while lesbian couples are most likely to be monogamous, leading him to conclude that the problem with monogamy is simply "dick."
Savage credited all of the people brave enough to come out to their families as one of the biggest contributing factors to the social progress that's been made in the United States. One significant achievement was that, while years ago, "if one of those douchebags who's always threatening to kill me made good on it," as Savage put it, his family would not get the same kind of benefits straight couples would when one of the partners dies.
He also said how whenever he has people come up to him and tell him that gay people cannot biologically produce a child, he just tells them "Anything is possible for God," and "I'm gonna keep inseminating my husband and keep my fingers crossed." The camera jumped to a one shot of conservative guest Grover Norquist looking visibly uncomfortable, leading Maher to quip that Savage should move on so as not to induce any actual vomiting.
Maher also found it amusing that Savage's son came out to him as straight, joking how kids always want to rebel against their parents. Savage used this to slam the religious claim that kids adopt their parents' sexuality, because 1) he had straight siblings and his parents weren't particularly shitty just to him, and 2) gay people are born to straight couples all the time. That's kind of how gay people come into the world.
Maher also brought up Savage's claim that gay men are more promiscuous, but only because they're men. Savage explained that gay male couples are least likely to be monogamous, straight couples are in the middle, and lesbians are most likely to be monogamous. Therefore, Savage concluded, "clearly the problem with monogamy is dick."
Watch the video below, via HBO:
—–
Follow Josh Feldman on Twitter: @feldmaniac
Have a tip we should know? tips@mediaite.com
Josh Feldman - Senior Editor