Dana Bash to GOP Rep: 'Impossible' for Speaker Boehner to Govern Because of You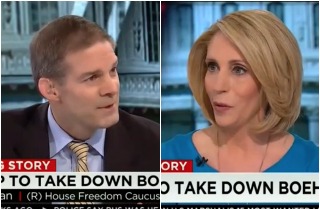 CNN host Dana Bash grilled Rep. Jim Jordan (R-OH) over funding the Department of Homeland Security and whether the conservative wing of the Republican Party is too focused on principle over governance.
Congress passed a one-week funding bill for DHS on Friday, meaning the same battles will again be litigated in the coming days. Democrats have been pushing for a "clean" bill, but conservatives Republicans like Jordan want to include a measure that blocks funding for President Barack Obama's executive orders on immigration reform.
At one point in the interview, Bash asked Jordan why he cannot see the "political reality." Jordan said the one-week extension gives lawmakers time to go to conference to iron out their differences. He repeatedly called Obama's executive actions "unconstitutional" and "unfair."
–RELATED: Peter King Demands Boehner Pass 'Clean' DHS Bill, Ignore 'Irresponsible' Republicans
Bash said Jordan's GOP colleagues, although they agree that Obama's executive orders should be repealed, realize that they cannot do so without shutting down the Department of Homeland Security — simply because they don't have the votes.
"Your fellow Republican colleagues think that you are more interested in chaos and sticking to principle than your responsibility of governing," Bash said.
According to Jordan, there is no effort to oust House Speaker John Boehner (R-OH), despite many reports to the contrary, nor a plan to impeach the president. The bottom line for conservatives, Jordan said, is they must clearly make the case that President Obama's actions are wrong and unconstitutional.
"Why do the Democrats insist — now this is amazing to me — why do they insist on being able to fund something that we know is unconstitutional and a federal judge has ruled against?" Jordan said. "That's the fundamental question … That's why our bill makes so much common sense."
Bash expressed exasperation with the current Congress, saying it does not look like Jordan and his fellow conservatives want the GOP leadership to succeed: "I've covered Congress for a very long time, and it feels more chaotic. It is impossible at this point for the House Speaker and the leadership team to govern and they feel like it is because you all don't take yes for an answer."
Watch the video below, via CNN:
[Image via screengrab]
— —
>>Follow Andrew Desiderio (@forza_desiderio) on Twitter
Have a tip we should know? tips@mediaite.com