Dana Perino Claims Diane Sawyer's First Question To Mitt Romney Was About Putting Dog On Car Roof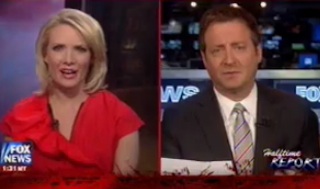 During Red Eye, on ombudsman Andy Levy's Half-Time segment, panelist Dana Perino claimed Diane Sawyer's very first question to Mitt Romney during their ABC interview had been about the time he placed his dog, Seamus, on the roof of his car for a family road trip.
Levy questioned Perino over whether the White House were the ones pushing the Seamus story.
RELATED: Joe Scarborough Loses It Laughing Over News That Obama Has Eaten Dog Meat
"Yes they have," said Perino. "Absolutely. This is their daily diet: Mitt Romney's rich. Mitt Romney's dog was on the roof of the car. and Mitt Romney is a Mormon. These are the three things. You can see the subliminal messages in everything they say."
"Are you saying they are using dog whistles?" joked Levy.
"Yes, it is an Obama Eat Dog world," Perino replied.
"I think are you wrong," Levy countered. "I don't think they will drop the Seamus story."
"Well, Diane Sawyer didn't drop it. She got to interview the Romneys on Monday and that was her first question," Perino claimed. "Not how are you going to create jobs? What is going wrong? How will you turn things around? It was why did you let your dog ride on the roof of the car?"
Wait a minute — that was Diane Sawyer's opening question to Mitt Romney during a network television interview?
Let's go to the transcript…
As it turns out, Sawyer's actual first question was "Is it finally sinking in?…It had–this is it?"
In fact, Sawyer went through a vast litany of topics (SNL, taxes, Afghanistan) during her interview with the Romneys, including the Lilly Ledbetter Fair Pay Act, which relates to women's jobs and whether they're being paid equally as men.
It wasn't until Sawyer's 23rd question that the dog on roof topic came up, coming from a Yahoo! user:
As we move away from this primary campaign into the next phase– again, on Yahoo, we got two questions most often, first about Seamus– which as you know is out there forever– would you do it again?
While the mere fact that Sawyer asked the question to begin with should be fair game to critics, claiming it was the opening question to Romney is not accurate.
Levy might want to retroactively fact check Perino on this particular assertion.
Watch Perino claim Sawyer's first question to Romney was about his dog being on the roof, via Fox News:
Have a tip we should know? tips@mediaite.com