Dana Perino: GOPers Concerned By Christie's Embrace Of Obama Can Take Comfort Romney Picked Ryan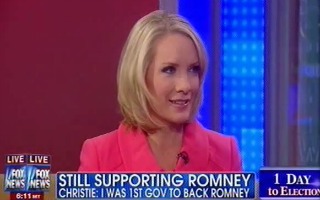 Co-host of Fox News Channel's The Five, Dana Perino, joined the hosts of Fox & Friends on Monday to discuss the federal government's response to Hurricane Sandy and the political impact that the storm could have on the presidential race. Perino was asked about conservatives who have been critical of New Jersey Gov. Chris Christie's praise for President Barack Obama's response to the storm. Perino said that Republicans who were concerned about Christie's praise for Obama can take heart in the judgment of Mitt Romney for choosing Rep. Paul Ryan (R-WI) to join him on the Republican presidential ticket instead of Christie.

RELATED: Christie Responds To GOP Critics Angry Over His Embrace Of Obama: 'Come See The Destruction'
Asked about President Obama's high marks in public opinion polls for his handling of the response to the storm, Perino said that she thought the political fallout from Sandy would be minimal. She said that voters who were apprehensive about voting for Obama before the storm would be unlikely to support him after the storm.
Gretchen Carlson asked Perino about Christie's embrace of Obama and whether he still supported Romney for the presidency, Perino chalked the New Jersey governor's reaction up to his characteristic exuberance.
"I don't think that anyone should read into it," Perino added. "However, if you are a Republican and you are concerned and turning your head, 'why did he do that?' It should give you great comfort that Romney made the right decision in his vice presidential choice in Paul Ryan."
Watch the clip below via Fox News Channel:
> >Follow Noah Rothman (@Noah_C_Rothman) on Twitter
Have a tip we should know? tips@mediaite.com