Dana Perino: Media Blamed Bush For High Gas Prices But Are Giving Obama A Pass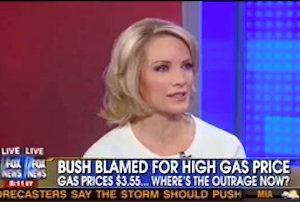 The Five's Dana Perino made an appearance on this morning's Fox and Friends and spoke out about the mainstream media's coverage of gas price prices, saying it was more negative under President Bush than President Obama.
"Do you see a complete difference in the way we're looking at it now?" anchor Gretchen Carlson asked Perino.
RELATED: Whoops! Fox and Friends Mixes Up GM With GE In Chevy Volt Report
"Sure, because if you look at that commentary, the gas prices we're dealing with now have been more gradual. When it's more — when it happens over a month or two-month long period — that hurts more. Families adjust when it's gradual. All of a sudden the media is talking about the laws of supply and demand and putting things in context. When President Bush was President, they talked about oil speculators. Who were friends of President Bush? They would put it together like that."
Perino criticized The New York Times for pushing the narrative as Gas Prices Give Republicans Something To Attack, rather than framing it as Obama's problem. "The GOP is now going to attack him!" Perino exclaimed. "This good man who has done nothing wrong!"
"Nothing wrong other than slow down the permitting process on offshore drilling, decline the XL pipeline which could bring thousands of barrels into the country per day," guest host Eric Bolling added.
"We don't need that for our electric cars!" Steve Doocy snarked.
Watch the segment below via Fox News:

Have a tip we should know? tips@mediaite.com