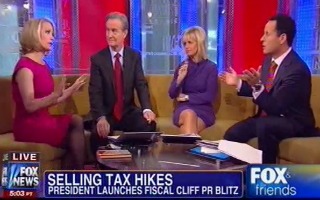 Co-host of Fox News Channel's The Five, Dana Perino, sat down with the hosts of Fox & Friends on Wednesday where she was asked about President Barack Obama's public effort to raise support for a resolution to the upcoming fiscal cliff that includes tax increases on high-income earning Americans. Perino said that, if she was in the president's position, she would try to put public pressure on Congressional Republicans as well because the GOP is in "disarray."

RELATED: Fox & Friends Digs Into Obama For Reverting To Campaign Tactics In Fiscal Cliff Talks
Perino said she believed that Republicans in Congress have signaled their willingness to compromise on tax increases so long as they are linked with significant spending cuts.
Brian Kilmeade expressed concern that the president's efforts to gin up public support for tax hikes amounts to another campaign and, after having just completed a long-running presidential campaign, the nation is tired of politics.
"If I were president Obama, I would be doing the exact same thing," Perino said.
Gretchen Carlson contended that another public campaign is unnecessary because Obama won the election on themes of "class warfare."
Perino agreed, but stressed that the president has to convince Congressional Republicans that he has a mandate to raise taxes.
"He's got Republicans on the ropes, and they know it," Perino said. "Republicans, to me, seem a little bit in disarray. Actually, for good reason – they did lose."
Perino said that the Republicans in Congress have policy on their side, but their political appeal at the moment is lacking.
Watch the clip below via Fox News Channel:
> >Follow Noah Rothman (@Noah_C_Rothman) on Twitter
Have a tip we should know? tips@mediaite.com