Dana Perino On Axelrod's Verbal Stumble: 'Nothing Good Ever Happens On The Sunday Shows'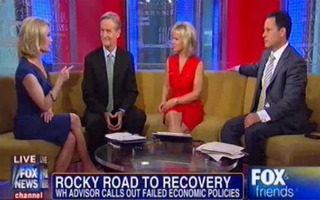 Dana Perino appeared on Fox & Friends on Monday to discuss David Axelrod's comments on Fox News Sunday when he appeared to suggest that the "path we're on" with President Obama needed work. Perino said in response that Mitt Romney is on track "in the next six to eight weeks, Romney will definitely pull ahead and be the frontrunner in the race."

RELATED: Chris Wallace To David Axelrod: Is President Obama Now Resorting To Same Fear Tactics He Once Decried?
Co-host Gretchen Carlson introduced a segment on Fox News Sunday when Axelrod misspoke and suggested that "the path we are on" with the President was suboptimal.
"The choice in this election is between an economy that produces a growing middle class and that gives people a chance to get ahead and their kids a chance to get ahead and an economy that continues down the road we're on where a fewer and fewer number of people do very well and everybody else is running faster and faster just to keep pace," Axelrod had said.
"Huh," said Carlson upon returning from the clip.
"I had a theory when I was White House Press Secretary – nothing good ever happens on the Sunday shows," said Perino. "Yesterday I thought they had a pretty bad day because even when David Axelrod talked about another topic we're going to talk about on lobbying, he seemed to make the case yet again for – that the Republicans were making."
"Is it working," asked co-host Steve Doocy.
"The numbers are going to tighten up," Perino cautioned. "Even though President Obama in some of the polls – except for the Fox News poll that came out later in the week – it's a little bit neck-and-neck. And if you look at the battleground states, Obama is slightly ahead of Romney. But they've had a bad couple of weeks and I would predict in the next six to eight weeks – there's not that much longer to go before the election – in the next six to eight weeks, Romney will definitely pull ahead and be the frontrunner in the race, which was, remember, where President Obama said he wanted to be. Said he wants to be the underdog in this election."
Co-host Brian Kilmeade asked Perino how Romney can best handle the coming attacks on his embrace of Rep. Paul Ryan's (R-WI) proposed budget. "How do you defend the plan," asked Kilmeade.
"Democrats that have poll-tested the Paul Ryan budget plan said that it is one of the most toxic things that they have seen in years, so they're excited because now they have something to fight against," said Perino. "The problem is if Republicans fall into the trap of being defensive about it. I think that they should say instead, 'at least we've got a plan. It might not be perfect, but it's a start."
Perino suggested that Sen. Kent Conrad (D-ND) was also derailing the Democrat's electoral strategy by advancing a budget in committee over the wishes of Senate Majority Leader Harry Reid (D-NV).
Watch the segment below via Fox News Channel:
Have a tip we should know? tips@mediaite.com