Dana Perino On Bin Laden Ad: 'Never Underestimate This White House's Ability To Overplay Their Hand'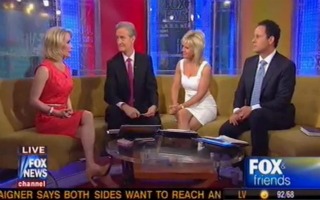 Former Bush White House Press Secretary Dana Perino appeared on Fox & Friends on Monday where she was asked to weigh in on the Obama administration's latest campaign push to put Osama bin Laden's death in the forefront of the President's reelection effort. Perino said that Obama may be overplaying their advantage with the Osama bin Laden ad that claims Mitt Romney may not have made the decision to go after OBL. Perino wondered why Obama's team would "question what anybody else would have done because how do they know?"

RELATED: Dana Perino: Unlike Obama, Bush Thought Late Night Shows Not 'A Place Where The President Should Be'
"Every president starts campaigning, but I think it's time that maybe we stop that by having just one term presidents," began co-host Gretchen Carlson.
"One six-year presidency," said co-host Brian Kilmeade.
"Maybe," Carlson agreed. "Something like that because otherwise they don't get anything done."
Perino was asked to weigh in on the presidents "permanent campaign" and said that she agreed. "It's obvious that this is what President Obama and his team have been doing since inauguration day."
"The battleground state thing is interesting," Perino continued. "There's not a lot of reason to go to states like Wyoming because you won't win those." Perino said that the President needs to be higher in the polls to achieve reelection and they are not because they have fumbled policy and disappointed voters.
"The best thing they could have done is to put together policies that turned the economy around," said Kilmeade. "That's better than 5,000 campaign appearances."
Carlson chimed in, saying that the killing of Osama bin Laden is something that the Obama administration can tout as a success, but she was "very surprised" to see just how they rolled out that election argument. "Instead of just saying, 'remember we got bin Laden,' they turned it on an attack on Mitt Romney," said Carlson.
Upon playing the web ad by Obama's team that claims Mitt Romney would not have expended the energy and money necessary to capture or kill bin Laden, Carlson returned saying that she was surprised Bill Clinton was in the ad because "he had a lot of chances to get bin Laden." Carlson asked Perino why she thought the Obama 2012 team turned the killing of bin Laden into an attack rather than a positive ad.
"I never underestimate this White House's ability to overplay their hand," said Perino. "In a situation like this, less is more. Yes, we are proud of the decision. We are proud of the men and women who carried it out. Done. You don't have to then question what anybody else would have done because how do they know?"
Co-host Steve Doocy read a statement from former Obama communications aide Bill Burton attacking then-Sen. Hillary Clinton for invoking Osama bin Laden during the 2008 Democratic primary as displaying the "politics of fear."
Carlson asked Perino for her impressions of NBC News' one year anniversary special about the death of Osama bin Laden which will film in the top secret War Room inside the White House, which Perino said was "over the top."
"I do think that it will just say to people, 'okay, we get it," said Perino.
Watch the segment below via Fox News Channel:
Have a tip we should know? tips@mediaite.com