Dana Perino: Republicans Boehner And McConnell 'Most Like The Adults' In Fiscal Cliff Fight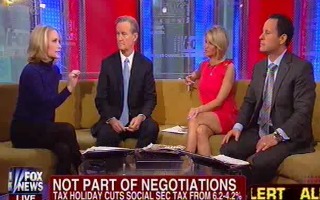 Fox News Channel host Dana Perino appeared on Fox & Friends to weigh in on the recently resolved fiscal cliff. She said that this episode shows why the American people so distrust Washington. Perino did, however, praise Congressional Republican leadership for acting like the "adults" in this dispute with Congressional Democrats and the White House.

RELATED: Fiscal Cliff Fight: John Boehner Reportedly Told Harry Reid 'Go F**k Yourself'
Perino said that she believed, now that it is temporarily resolved, the fiscal cliff was avoidable. She said that government revenues to the treasury are now at 2008 levels, and the only reason there is a debt crisis is the increase in spending over the last four years.
Perino went on to praise Senate Minority Leader Mitch McConnell (R-KY) and House Majority Leader John Boehner (R-OH) who she said behaved the most like "adults."
"Boehner offered the moon, and the president rejected that offer," Perino said with shock. "Then –imagine; this is how bad and dysfunctional Washington is – that McConnell can't deal with Sen. [Harry] Reid or Sen. Reid won't deal with him. So he has to call Vice President [Joe] Biden in to please come and help us."
Perino said that Biden remains one of the few figures in Washington who is genuinely liked by members of both political parties. "It's not a good situation," she concluded.
Watch the clip below via Fox News Channel:
> >Follow Noah Rothman (@Noah_C_Rothman) on Twitter
Have a tip we should know? [email protected]