Dana Perino: Unlike Obama, Bush Thought Late Night Shows Not 'A Place Where The President Should Be'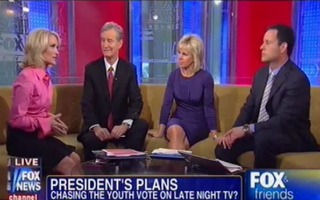 President Barack Obama will be appearing on NBC's Late Night with Jimmy Fallon and will also be meeting with comedian Jimmy Kimmel ahead of next weekend's Washington Correspondent's Dinner. Appearing on Fox & Friends on Monday, former White House Press Secretary and co-host of The Five, Dana Perino, warned Obama to be careful on the "dangerous" late night programs.

RELATED: Chris Matthews, Anderson Cooper, Dana Perino, And Other Media Personalities Face Off On Jeopardy!
Co-host Brian Kilmeade asked Perino for her thoughts as to why President Obama was booking guest spots on late night comedy programs, and speculated that it could be because recent polling has shown the President losing support among younger voters.
"The new focus is on college age kids—he might be losing them," said Kilmeade. "Is this a good thing to do?"
"It's where he's most comfortable," said Perino. "He does very well on those shows." Perino went on to say, however, that comedian's like Kimmel ask tough questions and "sometimes the humorous ones can hurt the most."
Perino criticized the President for booking events that have the opportunity to hurt him politically. Obama will attend a campaign event in North Carolina where state Democrats are embroiled in an ongoing sexual harassment scandal and the trial of former U.S. Sen. John Edwards is underway. Perino said that there is little to be gained by offering the opportunity to be linked to those scandalous events.
RELATED: Jay Leno on Meet The Press: 'Republicans Really Laugh At Themselves More' Than Democrats
"Over my dead body would I have sent President Bush to a state like that to do an event," said Perino.
She went on to say that her former boss, President Bush, liked and respected the late night comedy programs, but he never went on them. "President Bush didn't go on until after the presidency was over," said Perino. "He just didn't think it was a place where the president should be. And also, they're dangerous."
Watch the segment below via Fox News Channel:
Have a tip we should know? tips@mediaite.com