Dana Perino: White House Should Have Anticipated Conspiracy Theories On Timing Of Petraeus Departure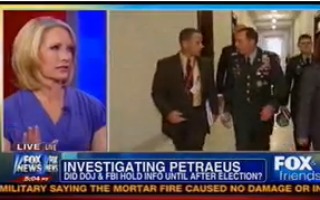 The Five's Dana Perino visited Fox & Friends curvy couch on Monday to weigh in on the unfolding story surrounding David Petraeus' resignation.
While Perino shared she is hesitant to give in to "conspiracy theories" regarding the timing of Petraeus' departure, she did feel that "from the communications stand point," the White House could have been "more sensitive to how people were going to feel when this news about Petraeus was released because one of the goals of a Press Secretary is to say to the President, 'You realize what people are going to say, right? You realize what people are going to think?'" One thing Obama could have done to smooth the situation and squash such conspiracy theories, she added, would be to have said "Look, I reluctantly accepted his resignation, but as a condition of that, I have asked him to volunteer to testify next week for the good of the nation."
Host Brian Kilmeade noted that Petraeus had "put a monkey wrench into the whole process" of finding out what occurred in Benghazi when he had said, as Kilmeade put it, "Listen, it looks like the [Innocence of Muslims] video had a lot to do with this."
Could he, Kilmeade asked, possibly have believed that the video was behind the attack on Benghazi?
"When the news first came out on Friday, we were getting ready to do The Five," said Perino. "I said, 'I don't think anybody throws away their 37-year marriage on national television to cover up for a White House on an issue like Benghazi.' That doesn't make sense to me. However, is it plausible that they said, 'do this or we will expose you'? And he said, 'I'll expose myself.'"
Steve Doocy then noted that an earlier guest, former CIA operative Gary Bernsten, had said that the White House is not telling truth, that this entire situation is "politically engineered," and that it is all of this for their own benefit. "I don't go that far," Perino responded, but did concede that releasing this news as part of a Friday news dump is "convenient."
"Should General David Petraeus testify next week?" asked Gretchen Carlson.
"Yes, I think he should," said Perino, "and I think that President Obama should have asked him to do so."
Have a look at the segment, via Fox News:
Have a tip we should know? tips@mediaite.com