Dance Moms Teacher Defends Herself On The View, Says With Some Kids You Need A Baseball Bat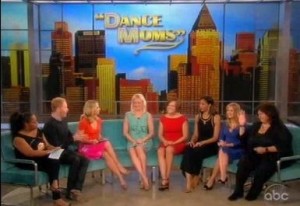 "Dance Moms," for the uninitiated, is Lifetime's hit show about a terrifying dance instructor named Abby Lee Miller and a small group of competitive dancers in her studio, at whom she screams in order to prepare them for victory, and whose head shots she arranges in a pyramid every week ranking them from best to worst. All of this happens in front of their mothers, who also spend a fair amount of their time yelling at Abby Lee. It's amazing, and today "The View" had Abby, her dancers and their moms on the show this morning to explain her methods.
First, Abby Lee spent a minute or two praising Whoopi Goldberg's one-woman show, telling her that it "changed [her] life." Well-played, Abby Lee. Then, Sherri Shepherd told her that while Whoopi would be available after the show if she wanted to fawn over her some more, they were here to talk about "Dance Moms." Also well-played.
Abby explained herself thusly:
"For 30 years people have had strong reactions to me. There's a lot of people out there that don't like me, and there's a lot of people that we compete against who pull their numbers when we show up at a competition [sic]."
When Elisabeth Hasselbeck asked Abby about her tendency to scream at young children, she responded "You, out of all the people here, know about reality television, for number one…You don't see all the other times that I told them [to do something in rehearsal]. You're seeing the climax, you're seeing it build, and that's what the producers want."
"But you're not their mom," Elisabeth reminded her. Abby Lee was ready for that one too, saying "I am their mother…in my heart, and in my soul…I'm not some fly-by-night teacher. The dance supervisor for 'Wicked' is my student."
When she was asked about telling one of her students that her mother didn't love her because she wasn't at rehearsal, she countered "[The moms] signed up for this. Part of the deal in creating the show is that parents be present. They want to stick them up there in that observation mezzanine and watch them stew." That sounds…positively diabolical! I believe her 100% here.
Try as they might, none of the hosts could get Abby to admit that yelling at children might have an adverse effect on them. Abby declared "I can say to a child 'You know, when you're coming through [dance gibberish], open up your knee and press your hip down." The previously very quiet Jesse Tyler Ferguson piped up at this point to exclaim "Yes, yes preach!" Abby continued "Some kids don't learn that way. Some kids you have to yell at. Some kids you have to take a baseball bat – which is FOAM rubber, by the way -and straighten that knee."
Uh, why would anyone subject their children to this? Well, in the words of Dance Mom Kelly Hyland, dancing for Abby Lee teaches you "good work ethnics." Not to mention the effect it has on one's vocabulary! You can see the clip here via ABC:
Have a tip we should know? tips@mediaite.com