Daniel Tosh Rape Joke Controversy Gets Weirder: Comedian Reportedly Rushing To Cut Rape Jokes From New Series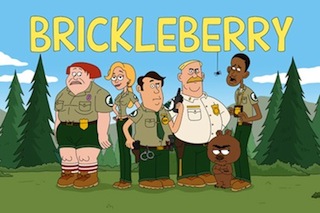 While the biggest story in the politics world this past week has been about a company that allegedly made much of its money raping other companies, the biggest story in the entertainment world has been about rape itself. Or, more specifically, jokes about rape. Popular comedian Daniel Tosh set off an absolute whirlwind of controversy this week when he allegedly "joked" at a comedy show that it would be hilarious if a five guys raped a female heckler. The story was just starting to die down when it got even weirder. According to the site RumorFix, the staff of a new animated series are in a crisis because the pilot, which they were supposed to premiere tonight at Comic-Con, is all about…wait for it…rape.
Whoops.
RELATED: Whoopi Goldberg On Daniel Tosh's Rape Joke: 'If It Works, Then It's Okay'
Alright, here's the background just in case you've been lucky enough to avoid this sordid little story.
Daniel Tosh is a comedian with an incredibly popular Comedy Central series called Tosh.0. It's basically a fratty America's Funniest Home Videos but with more random gay jokes and it's garnered Tosh a massive fan base. However, those aforementioned gay jokes, as well as race jokes, as well as misogynistic jokes have also brought a lot of tension and scrutiny.
A few months ago, on his show, Tosh instructed his mostly male audience to sneak up on women, "lightly touch" their stomach while they're sitting against their will, and tape the reactions. He ended the segment by informing viewers to "be careful" because the women "like to pretend they don't love it." Unsurprisingly, this caused a great deal of controversy and it was upon this powder keg that, this week, Tosh threw a big flaming match of rape joke.
A post on Tumblr went viral after it alleged that Tosh was recently doing a set at the Laugh Factory in Los Angeles and began claiming that "all rape jokes are funny" (it's important to point out that Tosh disputes this quote and claims he was actually making a George Carlin-esque argument that any topic can be funny). As the Tumblr post claimed, a woman in the audience stood up and spoke out, at which point Tosh joked about the audience gang-raping her.
The comedy world that instantly exploded and the story has absolutely consumed all entertainment, television, and women's issues news outlets for days. Unsurprisingly, the conversation quickly devolved into histeria with one side screaming "ANYONE WHO ATTEMPTS TO GET AN ARTIST TO GIVE AT LEAST SOME CONSIDERATION TO THE TOPICS THEY DISCUSS IS JUST A CENSOR-LOVING NAZI!!!" and the other side screaming "ANY COMIC WHO EVEN MENTIONS THE WORD 'RAPE' PROBABLY HAS A BUNCH OF WOMEN LOCKED IN HIS BASEMENT AS WE SPEAK!!!" all the while those actually attempting to take a more thoughtful approach to the debate is instantly lost amongst the outrage.
So, yeah, things have gotten pretty bad. Which is why this story from RumorFix is absolutely hilarious. Tosh has a new animated series on Comedy Central called Brickleberry about park rangers (I'm expecting an identically fratty Family Guy with the exact same amount of random gay jokes). That show has reportedly hit a bit of a snafu…
From RumorFix:
"RumorFix has learned exclusively that producers and editors are scrambling to take out any reference to rape in the pilot episode of Daniel Tosh's new animated series, Brickleberry.

Production sources tell RumorFix that Tosh has given them just over 24 hours to make the changes — because the series is scheduled to be shown at Comic-Con in San Diego Friday night.

'Everyone is freaking out, because most of the pilot is about rape,' our source says."
Some might say that, if true, this is further proof that Tosh's brand is based on lazily exploiting topics like rape in a desperate attempt to be edgy. Those people are wrong. In truth, animated park rangers are constantly raping each other hilariously and this show is just holding a mirror to that.
Anyway, as always, the only people with a sensible take on any of this is The Onion.
(h/t Splitsider via The A.V. Club)
Have a tip we should know? tips@mediaite.com