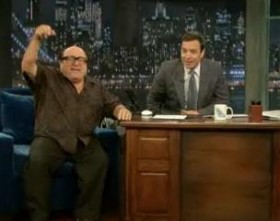 Last night Danny DeVito was on Late Night with Jimmy Fallon, and fans of his quietly-getting-ginormous TV show, It's Always Sunny In Philadelphia, were treated to a musical rendition of an awesome in-joke: The Roots played DeVito in with a swingin' rendition of "Troll Toll" from the Always Sunny musical, The Nightman Cometh. See? Total in-joke. Here it is, in a nutshell: Danny DeVito plays the Troll who demands a Toll from the Nightman who wants the Boy's soul. Line: "You've got to pay the Troll Toll if you want to get into this boy's soul." What else does "Boy's Soul?" sound like? Exactly.
Anyhow: Aside from the opening (er, no pun intended), it was a great interview — Fallon got DeVito talking about Taxi (oddly, not even a reference to Fallon's movie of the same name) and Always Sunny (on Kaitlin Olsen: "the funniest woman on TV"; The McPoyle Brothers: "these guys walk around with their own jar of Vaseline!"), and his own Danny DeVito brand on Limoncello. Yes – Danny DeVito's Limoncello, inspired by his infamous drunk-on-The View incident ( "I knew that it was the last seven Limoncello's that was gonna get me"). Fallon says that restaurateur Mario Batali only uses it in his kitchens. Here it is for $24.95 if you would like to purchase some. Good things come from showing up drunk on The View!
Other DeVito news: Go here to see his new Facebook page, here to follow him on Twitter, and here to see him naked on Always Sunny.
The video is below; it's the full ep, so skip to the second tab at 17:08.
Have a tip we should know? tips@mediaite.com