Darrell Issa, Whistleblower Blast Dem Rep Who Claimed GOP's Budget Cuts Contributed To Benghazi Deaths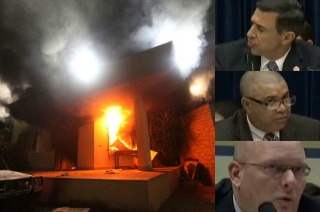 During testimony on Wednesday into the government's response to the attack on an American consulate in Benghazi in 2012, a heated exchange erupted between Rep. William Lacy Clay (D-MO), Rep. Darrell Issa (R-CA), and one of the whistleblowers over whether House Republicans' efforts to cut federal spending contributed to the attack on the consulate. Both Issa and the whistleblower corrected Clay's assertion that budget cuts were partially responsible for the deaths of Americans in Benghazi.

RELATED: GOP Rep. Interrogates Benghazi Whistleblower 'Embarrassed' By Blame Placed On YouTube Video
Clay said to Eric Nordstrom, the State Department's Diplomatic Security Officer and former Regional Security Officer in Libya, that it must have been frustrating as a career security officer for the House to decide to reduce diplomatic security funding.
"House Republicans voted to cut the administration's request for embassy security funding by $128 million," Clay added. He said that the Accountability Review Board backed up the assertion that a reduction of funding for security for high-risk, temporary outposts was critical.
Nordstrom countered that there really "is no such thing" as a temporary facility.
"Were you here on October 10 when the person who had those requests for additional security said money was not a factor – [Deputy Assistant Secretary of State] Charlene Lamb?" asked Issa.
"I can't remember if I was…" Clay said before being cut off.
Issa turned to Nordstrom who was also on that panel. "She said that resources was not an issue," he said. He added that the ARB report confirmed resources were not an issue.
Clay replied that he was wrong and that the ARB report draws the opposite conclusion. Nordstrom said that the ARB did not question the right people in making that determination.
Issa replied that the Benghazi consulate had been attacked twice, and there was wide recognition that the Benghazi outpost lacked appropriate security staffing.
Watch the clip below via C-SPAN 3:
> >Follow Noah Rothman (@NoahCRothman) on Twitter
Have a tip we should know? tips@mediaite.com