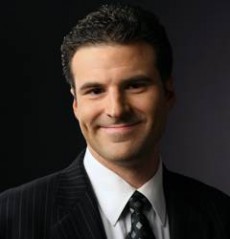 CNBC can be a tough slog these days: the frantic noise of the past year has settled into a dull roar, and the endless hours of Congressional footage can make the network seem more like C-SPAN. Punctuating the monotony, though, are the colorful segments by Sports Business Reporter Darren Rovell. Formerly employed at ESPN to cover the business of sports, Rovell joined CNBC in July of 2006 ("I just went from being the geek at the sports network to the cool guy at the business network," he told Mediaite's Steve Krakauer in a Mediabistro podcast back in May) and has interviewed sports personalities ranging from Roger Federer to David Stern. He is the reporter behind a number of CNBC documentaries and the author of two books, including "First in Thirst: How Gatorade Turned the Science of Sweat into a Cultural Phenomenon".
Rovell's reporting has taken him into the boardroom and onto the basketball court, where he once hit a lone free throw against the Harlem Globetrotters in Madison Square Garden. In between his television segments, Rovell's blog and Twitter feed provide smart commentary on an amusing range of sports business related topics. (Sample Tweet: "If I'm doing marketing for Gilette or Schick, I get Del Potro to shave that awful beard in Times Square tomorrow").
Last week Rovell was kind enough to speak with me about energy bars, Melanie Oudin, naming rights, and who has the best fist-pump in sports. And, of course, Twitter.
So I have to say, in my day job we have CNBC playing a few feet away from us all day long. And we literally sit at our desks and when your segments come on —
(laughs) You turn it up?
Well, we turn to each other and shake our heads and we're like "this guy has the greatest job in the world!"
Yeah, it's hard! I mean, I appreciate my job. But it's really hard. They might joke on air, you know, 'Hey, it's Darren Rovell! He has the best job – he's at the US Open!' But let's take last Monday. I was out there at the US Open at 5am because I'm on at 6:50 and then 10:50, 11:50, 12:50 – I'm on every hour, each with a different guest, sometimes with 2 guests at one time. And I didn't see a single point of tennis. I was just standing outside. So it looks like this is a dream job, but I'm not going in and watching the game for the most part. The Super Bowl might be the exception.
Tomorrow I'm going to be in Pittsburgh for the NFL season opener. I'm not going to the game! But for me, it's not even the athletes – when I deal with interviewing the business people, or the sports business people, well, that's my dream job.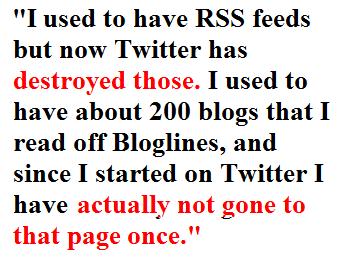 It seems from looking at your background that you really carved out a niche pretty early on – a combination of sports, business, media, branding…
Yeah, I mean, I didn't want to toil in the local markets. I think things were kind of going against local markets in sports, if you think about it, with the ESPN-ing of everything. The local markets were really getting cut down. You know, I love reading business news and I love sports, and I figured well, how can I become a sports business person? So I started my sophomore year at Northwestern, and Sports Business Journal came out and I wrote a couple of columns for them, just like opinion columns that got in. That kind of got me started. I had seen Sports Business Daily, the trade publication, but it just went to trade people.
Yeah, I've looked at that but I didn't want to pony up the $400 bucks!
That's right. So I said, how about I start a sports business radio show at Northwestern? It was called The Sports Business Beat. And we got some incredible guests. I mean, the main thing is that everyone wants to talk to athletes but they don't want to talk to you. And no one talks to a lot of the insiders behind everything – and they can talk their heads off. And that's what I experienced. I didn't tell anyone that we were a college station and I built up a pretty good Rolodex.
One of my best hours was: we tried all 13 kinds of energy bars. What we did was, we took a couple of bites of each energy bar and then we said 'Let's bring on Lisa Thomas, from Clif Bar!' So we had all the founders lined up on the air. I mean, that's incredible that we pulled that off. There's a whole bunch of business reporting that certainly isn't fun, so I kind of see myself as a 'Director of Fun' too. It was just such a great – I'll never forget it – such a great segment. How crazy we were – we were tasting on the air and then asking 'So! How'd you come up with the carrot cake flavor?' and stuff like that.
That led to you now, eating the 5,000 calorie burger on air on CNBC.
(laughs) Yeah, I kinda like to switch it up. I've done some nice participatory journalism, whether it was playing Andy Murray last week or coming in fifth in the watermelon seed spitting contest, or what. But anyway, what it all led to was: ESPN came on campus. There was a senior executive named David Albright who showed up – you know, if it was some HR person I wouldn't have gotten the break that I did – and I said, 'you guys should have someone to cover the business of sports.' You know, I put myself in the position to be lucky. I mean, I read all the books that were written about sports business, and I was reading Sports Business Daily. And I got the job and two weeks later I was working at ESPN. So it was fun. But it is obviously a lot of hard work, like anything.
So do you think, using something like the Clif Bar segment as an example, it's easy to say 'oh, that's a fun, frivolous segment' –
Oh, definitely.
– but then, at the same time it's huge! I mean, it's an industry, like anything else.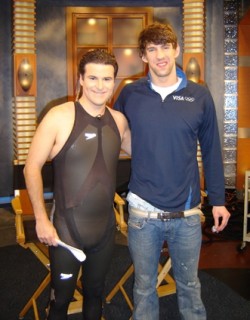 Just because I'm covering sports business doesn't mean that I don't have the same responsibility to break news. So like this morning, I had Phelps on. And I don't know if you saw it – it was really early, but it's on my blog – and Phelps wasn't really the one to tell me any news. But you know, having the [Speedo parent company] Warnaco CEO on [Joe Gromek], I needed to get out of him – well, if the swimming's governing body, FINA, changed the rules on them, and they were a sponsor, I wanted to be the first to ask if FINA would be returning money to retailers, if they're trying to make them whole, and whether FINA will pay some of those reparations. And he said of course not.
And okay, of course not, yeah, but you know, that news hadn't been out there! So, number one, I have just as much responsibility to break news and number two, there's a lot of preparation. I think people who aren't in TV don't realize what it requires. For me, it's preparing the best questions. So, tomorrow I'm on at 10:20 interviewing Anthony Noto, formerly of Goldman Sachs, who is now the CFO of the NFL. Then at 1:50 I'm interviewing DeMaurice Smith, the head of the Players' Union, and at 2:50 I'm interviewing Dick's Sporting Goods. So that's three separate interviews. And I've got four minutes, and I'm flying all the way to Pittsburgh, and I've got to ask the right questions. And you really just don't have any wasted questions. And I think anyone can book someone on a show, but I'd like to think that my preparation puts CNBC in the position to break the most news, and for the viewer to get the most out of it.
[**Note: Rovell's trip to Pittsburgh got canceled at the last minute so the network could flood the zone with coverage of Obama's health care speech and Geithner's policy announcements. "Pray I'm still on at 10:10," he emailed around midnight. And he was: speaking with Noto in the league CFO's first televised interview. In less than four minutes, Rovell had Noto breaking news on-air: that NFL will be showing blacked out games on delay on NFL.com.]
>>>NEXT: "TWITTER HAS CHANGED MY REPORTING LIFE."
Have a tip we should know? tips@mediaite.com