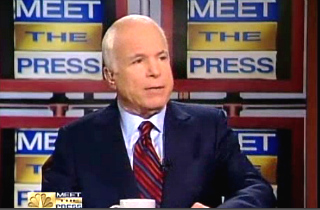 Republicans in Congress have made more appearances on the Sunday talk shows than their liberal counterparts, according to data compiled by researchers at American University and analyzed by the New York Times.
According to the Times, GOP lawmakers have made 57 percent of the appearances, compared to just 42 percent made by Democratic senators and representatives. This disparity, however, is credited to prolific appearances by TV bookers' favorite Republican Senator, John McCain, as well as Lindsey Graham and Mitch McConnell.
RELATED: Finally an Answer to the Age-Old Question: Why Is John McCain on TV So Much?
The American University data shows that Sens. McCain, Graham, and McConnell have made 97, 85, and 66 appearances on the Sunday shows, respectively, since January 2009. Among the liberal leaders in number of appearances are former Obama campaign strategist David Axelrod (that is, before he was employed by NBC), Sen. Dick Durbin, and Sen. Chuck Schumer.
Because Republicans have controlled the House for the past three years, this gives their leaders and committee chairmen more chances to discuss what's happening in Congress, the Times's analysis explains. Republicans got another big boost when their presidential candidates made the rounds throughout the campaign season.
If you're curious as to how many times your representative or Senator has appeared on a Sunday talk show — if at all — American University's data can be found here.
[h/t The New York Times]
[Image via NBC/screengrab]
— —
>>Follow Andrew Desiderio (@forza_desiderio) on Twitter
[Note: Mediaite intern Andrew Desiderio is a student at The George Washington University.]
Have a tip we should know? tips@mediaite.com