Dave Matthews Will Cast A 'Slightly Heartbroken' Vote For Obama This November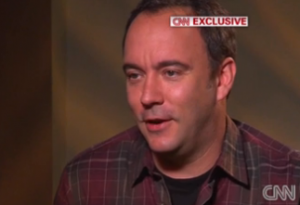 Musician Dave Matthews is voting for President Barack Obama come November — but make no mistake, he isn't thrilled about it. In an interview with CNN, Matthews said while he's supportive of the president's reelection, he's also "slightly heartbroken."
Matthews, who also supported Obama in 2008, said he is concerned about whether he can win this time around — but added, "I'm also concerned about his policies. I certainly don't agree with a lot of his positions." But they do have common ground in their disbelief in the concept of "trickle-down economics," he noted.
"I think Democrats and Republicans survive on distracting us from the real issues, and so we get very little done when they stay in office," Matthews said. "I wish there was a third party, but right now, I will wholeheartedly support Obama — even if I'm slightly heartbroken about it."
Asked whether support for Obama from various entertainers "has wavered this time around," Matthews cited justified disappointment.
I think he had a sort of single message, and it came from him, and it came from his heart or the hearts of a small group of advisers. But then, once he was in office, I think there were a lot more voices that made it harder for him to stay on that message. And so I think — rightly so — people are disappointed. Not that it's been easy, because I think that he's been up against an incredibly poisonous opposition during his presidency. Really disrespectful, I think, because he's still the president. But I think I was probably disrespectful of his predecessor. But I think it's reached a new high.
Ultimately, Matthews' thoughts sounded like the familiar "less of two evils" argument.
"I'm disappointed," he said, "but I'd be more disappointed by having a president like Romney in there."
The clip below, via CNN:

(H/T POLITICO)
Have a tip we should know? [email protected]