David Axelrod Defends Obamacare Holdup: Obama 'Knew Optics Were Not Going To Be Good, Took It On Anyway'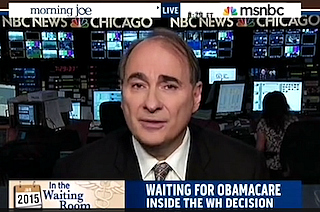 Former Obama advisor David Axelrod appeared on Morning Joe Wednesday morning to defend yesterday's decision delaying the implementation of the employee mandate under Obamacare until 2015. Axelrod dismissed the many Republicans who have seized the decision as evidence the bill is harmful to businesses and the economy.
"There are a lot of folks who want to see this fail, and are eager to jump on these kinds of stories," Axelrod said. "The nature of these programs, the history of these programs, big social programs is that they come online at fits and starts. There are bumps in the road. You have to make adjustments along the way. But ultimately when history looks back at them, we say, 'That was the right thing to do.' I think that's the way it's going to be with the Affordable Care Act."
"I'm not sure how you're still standing after that brutal questioning," Republican strategist Nicole Wallace said following the hosts' softball questions that allowed Axelrod to reaffirm the noble intentions of the legislation. Wallace challenged Axelrod to answer charges that the delay was a tacit admission by the administration that the employer mandate was inimical to business.
"I was in the White House when the president made the decision to go forward," Axelrod said. "There was no illusion about the fact that it was going to be very, very difficult politically, that the more expedient path would be to pass by health reform…We knew the optics were not going to be good along the way that, there were going to be political burdens. Yet [Obama] took it on anyway. I'm proud of him for doing it."
RELATED: Morning Joe Panel Rips GOP Strategist Over Obamacare Delay: You Just Want 'Election Year Issue'
Axelrod said the administration was trying to take the long view of the law. "Every day in Washington's election day," he said. "We tend to judge these things on the basis of what's happening at that moment. [Obama's] view is that we ought to plow forward, make this can work, and we're going to look back at it and it's going to be our proudest accomplishment. But it's going to take time. If you're worried about optics at any given moment, you're not going to accomplish very much in public office."
Fortune editor Leigh Gallagher asked if the decision to delay the mandate until after the midterm elections was a smart political move, a question the presumed that the decision was political. Axelrod didn't take the bait.
"It was less motivated by the midterm elections than a concern that this thing work properly," Axelrod said. "I do think it makes sense to listen to stakeholders, to listen to concerns, to work these issues through and not to force them if you think that you're not ready or it's not ready to move forward. As has been pointed out repeatedly, this applies to a very small piece of the program. Ezra [Klein] made that point very well. So why not back off, take a look at it, see if it can be done in a more efficient, effective way that makes the businesses affected more comfortable. If it takes an extra year to do that, that's a smart thing to do."
Watch the exchange here, via MSNBC:
—
>> Follow Evan McMurry (@evanmcmurry) on Twitter
Have a tip we should know? tips@mediaite.com