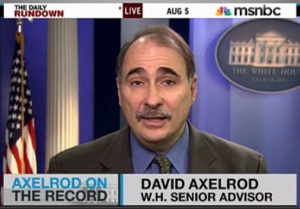 Savannah Guthrie and Chuck Todd wasted no time on MSNBC's Daily Rundown this morning before pressing Obama's senior advisor David Axelrod to explain the White House's reaction to a federal court decision striking down California's same-sex marriage ban.
"I think the American public could be forgiven if they're a little confused about where the president stands on all of this," Guthrie said, laying out Obama's opposition to same-sex marriage and perceived ambivalence in criticizing California's Proposition 8 effort.
Axelrod was having none of it, saying both Guthrie and Todd were misstating Obama's position. He said Obama always considered Proposition 8 "mean-spirited" and opposed it, but he does not support same-sex marriage generally.
"The president does oppose same-sex marriage, but he supports equality for gay and lesbian couples, and benefits and other issues, and that has been effectuated in federal agencies under his control.  He's supports civil unions, and that's been his position throughout.  So nothing has changed," Axelrod argued.
But Guthrie was unconvinced, pointing to an interview with ABC's Jake Tapper where Obama said he wasn't bothered by what California was doing in banning same-sex marriage
The White House issued a tepid statement yesterday after the decision was announced, stating Obama "has spoken out in opposition to Proposition 8 because it is divisive and discriminatory. He will continue to promote equality for LGBT Americans."  The statement did little to mollify critics who pointed out that Obama is opposed to same-sex marriage–which is considered the centerpiece of the equality fight for gay activists–and that the Obama administration has been put in the uncomfortable position of repeeatedly defending the Defense of Marriage Act while saying they wanted the law overturned by Congress.
"Clearly, we have different definitions of what LGBT equality means. For LGBT Americans, it means full equality. For Obama, it means separate, but equal," blogger Joe Subday said at AmericaBlog after the White House statement was released.
This is an opinion piece. The views expressed in this article are those of just the author.