David Axelrod, Michael Steele Battle Over GOP's Future: 'Tea Party Not Going to Go Quietly'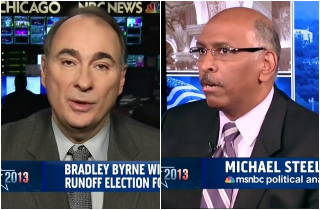 Everybody expected plenty of tea-leaf reading about the future of the GOP on the Wednesday morning after Election Day, and MSNBC's Morning Joe did not disappoint, with Cokie Roberts' comment that "it was not a good night for the tea party" setting off former RNC Chairman Michael Steele and former Barack Obama advisor David Axelrod.
"There's only so much money to go around in a 2014 congressional election cycle," Steele said, referring to the Alabama Republican primary, in which an "establishment" candidate backed by the Chamber of Commerce and wealthy contributor Joe Ricketts beat a tea party challenger. "A special election in Alabama—that's a very different environment for a Joe Ricketts to play in. I don't think we should overstep. Next year, we've got a whole different dynamic. The tea party is not going to go quietly into that good night, certainly not on the money front."
"The fact is the business community had made a Faustian bargain with the tea party in 2010 and 2011 and 2012," Axelrod said. "It all came home to roost in the shutdown, in the flirtation with default, and they realize, this is serious business, and we need serious people. That was reflected in where they put their money in these races."
Axelrod also cautioned against reading too much into the effect of Obamacare on the Virginia race, and extrapolating from that a winning strategy.
"If Republicans think they can get on this Obamacare kick and win in 2014 on that, I think they're mistaken," Axelrod said. "If you look at the polling, even throughout all this Obamacare debacle, their numbers have not moved. They have not gained. So I think it is too facile to say, 'We're just going to talk about Obamacare and win this election.' They've got deeper problems than that."
Watch the full clip below, via MSNBC:
[Image via screengrab]
——
>> Follow Evan McMurry (@evanmcmurry) on Twitter
Have a tip we should know? tips@mediaite.com