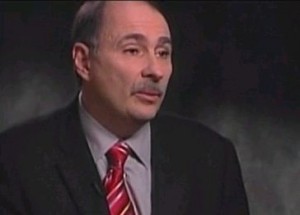 Obama campaign advisor David Axelrod appeared on This Week today, and when he was asked twice about the impact the Occupy Wall Street protests could potentially have on President Obama's reelection chances, he admitted to being uncertain of how much political sway the movement could end up having.
Christiane Amanpour first focused on the president's jobs bill, and asked Axelrod if he believed the millionaire's tax had enough political support to be passed. Axelrod pointed out the majority of the American people support raising taxes on millionaires, so the political will to do it is there. The American people, as he put it, are pushing for Congress to act instead of doing nothing on currently high unemployment numbers.
Amanpour then turned her focus to the Occupy Wall Street protests, and asked Axelrod if he thought the movement would be a "benefit" to President Obama as he runs to be reelected next year. Axelrod said very little about the actual protest, choosing instead to shift his focus to the Republican presidential field.
"Obviously, I don't think any American is impressed when they see Governor Romney and all the other Republican candidates saying the first thing they'd do is roll back Wall Street reforms and go back to where we were before the crisis, to let Wall Street write its own rules. I think that will be an issue."
Amanpour asked again about the protests and whether they were beneficial to the president's reelection chances or not, because some of the rhetoric coming out of the Occupy Wall Street protests has been critical of President Obama. Once again, Axelrod was careful in his rhetoric to acknowledge the protestors but not to say anything too positive or negative about them, circling right back to laying out President Obama's future plans to deal with the economic crisis.
Watch the video below, courtesy of ABC News:
Have a tip we should know? tips@mediaite.com
Josh Feldman - Senior Editor