David Axelrod References Mitt Romney's Dog On Car Roof Episode On Morning Joe
David Axelrod References Romney's Dog On Car Roof Episode On
Morning Joe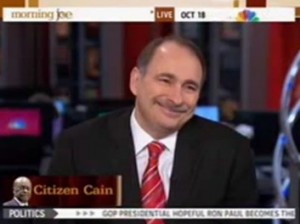 Early on in his appearance on Tuesday's Morning Joe, Obama campaign chief strategist David Axelrod quickly steered the conversation around to his campaign's relentless, laserlike focus on former Mass. Gov. Mitt Romney. Asked to assess new GOP frontrunner Herman Cain, Axelrod told host Joe Scarborough that Cain is just the latest indication of Romney's weakness as a candidate, and coyly dropped in a reference to Romney's infamous dog-on-the-roof road trip. It's going to be a ruff campaign.

The President's reelection campaign, and completely unrelated Bill Burton-run superpac Priorities USA Action, have been as single-minded in their attacks on Romney as a domestic pet, of some kind, with a bone. The Romney campaign recently noticed the phenomenon in an ad, positing it as evidence of nervousness on the President's part. In a weird way, it is good news for Romney, as it indicates that the crack Obama political operation sees him as the eventual nominee, and always has.
In keeping with this subtle pattern, when Joe Scarborough asks, "What is the Obama team's take on this new front runner (Herman Cain)?" Axelrod replied, "My take is two things. One is, don't get a take on any frontrunner on Republican side, because they are likely to change tomorrow. We've seen so many of them along the way here."
Then, he pivoted to Romney, and his vexing vacay. "if I were sitting over there in the Romney camp, I would be wondering why people aren't buying the dog food. And this is not a reference to strapping the dog on the…"
Some momentary amusement ensued, before Axelrod continued to point out Romney's flat support among a field of ever-spiking rivals.
Here's the clip, from MSNBC's Morning Joe:
For the uninitiated, Axelrod was referring to an anecdote that appeared as part of a long profile of Romney in The Boston Globe:
Before beginning the drive, Mitt Romney put Seamus, the family's hulking Irish setter, in a dog carrier and attached it to the station wagon's roof rack. He'd built a windshield for the carrier, to make the ride more comfortable for the dog.

Then Romney put his boys on notice: He would be making predetermined stops for gas, and that was it.

The ride was largely what you'd expect with five brothers, ages 13 and under, packed into a wagon they called the "white whale."

As the oldest son, Tagg Romney commandeered the way-back of the wagon, keeping his eyes fixed out the rear window, where he glimpsed the first sign of trouble. "Dad!" he yelled. "Gross!" A brown liquid was dripping down the back window, payback from an Irish setter who'd been riding on the roof in the wind for hours.

As the rest of the boys joined in the howls of disgust, Romney coolly pulled off the highway and into a service station. There, he borrowed a hose, washed down Seamus and the car, then hopped back onto the highway. It was a tiny preview of a trait he would grow famous for in business: emotion-free crisis management.
According to Politifact, Romney defended the practice, telling reporters in 2007 that the dog loved riding on the roof:
"He scrambled up there every time we went on trips," Romney said. "He got (up) all by himself and enjoyed it." He also said PETA had targeted him because there was a rodeo at the 2002 Salt Lake City Olympics, and because he went quail hunting in Georgia. "And they're not happy that my dog likes fresh air," he added.
The incident has largely been ignored this time around, but added an extra level of awkward to this 2008 clip, in which Romney, posing for a picture, emits a stanza of "Who Let The Dogs Out":
Romney also drew unfortunate attention to the story in a recent debate when he made a reference to "eating Obama's dog food."
The anecdote probably won't hurt Romney much with GOP primary voters, who will probably be angrier with Axelrod for bringing it up, but could become more of a problem in a general election.
Have a tip we should know? tips@mediaite.com