David Axelrod, Valerie Jarrett Run Block For Obama On God, Jerusalem Omissions In DNC Platform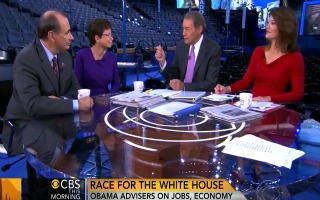 President Barack Obama's most senior advisors, David Axelrod and Valerie Jarrett, appeared on CBS This Morning on Thursday where they addressed a number of issues – notably, the chaos on the floor of the Democratic National Convention on Wednesday as a small revolt erupted over the attempt to include God and Jerusalem as Israel's capital in the party's platform. When asked why the president himself intervened in the process to ensure the platform was revised, Axelrod and Jarrett pointed to members of the platform committee whose job it was to include those provisions.

Jarrett said that President Obama was unaware that the platform had originally omitted references to God or to Israel's disputed capital city and when he was made aware of the omissions, he quickly moved to address the issue.
"He didn't know it was not in," asked Charlie Rose.
"Honestly, Charlie, he was counting on others – he has some other duties and responsibilities – and so when he learned that what had been in the platform had been taken out, he put it back in," Axelrod replied.
Axelrod may be referring to the DNC's platform committee co-chairs, former Ohio Gov. Ted Strickland and Newark, New Jersey, Mayor Cory Booker.
President Obama's speech to the convention tonight may overshadow the controversy surrounding the controversy about the nature of the Democratic party's position on key Israeli security issues like the status of the city of Jerusalem.
However, even after Bill Clinton's stem-winder speech last night, the issue is alive and well.
Watch Jarrett and Axelrod on below via CBS:
> >Follow Noah Rothman (@Noah_C_Rothman) on Twitter
Have a tip we should know? tips@mediaite.com